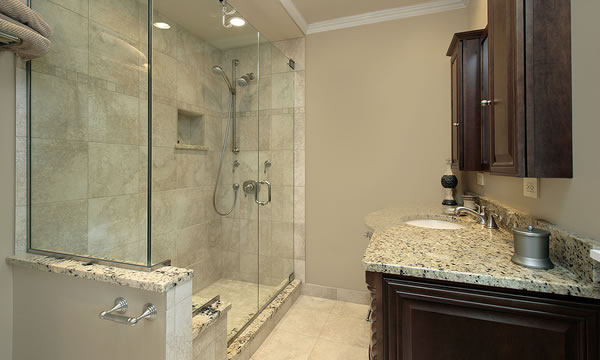 Master bathrooms need to be just that; Masterful! It's pretty common knowledge that the way your day starts set the pace for the rest of the day.
How are you kick starting your day? Perhaps you are crammed into a small moldy corner shower with little to no light. Perhaps your shower valve has expired its best days and now produces a meager stream leaving you rinsing forever. Maybe even you are in a position where you must shave in the tub then take a shower wasting valuable time while juggling your busy schedule and gathering the troops for school. No matter which of these situations is yours, we have solutions which can be tailored to alleviate your pain.
With your new master bathroom gone will be the days of despair and a new chapter of happiness will enter your life. Master bathrooms should be the nicest bathroom in your home according to the board of realtors. The following are a few features you may want to include to make it that way;
Steam Shower: Steam showers are both fun to use but also very good for your lung health especially in the winter when congestion and sickness attacks. Steam generators have come along way recently and now are for the most part affordable and simple to include into almost any floor plan. Keep in mind that a space for the generator must be allotted. We usually conceal these in a custom cabinet in an adjoin closet. Our favorite generator is made by ThermaSol. It comes in various lines based on your specific requirements.
Double Sink Vanities: Nothing extends the length of a marriage like not sharing a sink! Having your own sink is a great way to boost the functionality of your master bathroom. Double vanity sinks are typically between the sizes of 4-6 feet wide. Any smaller than 4 foot wide makes for a cramped situation which negates the advantage attained with the additional sink. If the space doesn't exist in your current bathroom for a double vanity consider removing a wall to make space.
Frameless Glass: Frameless glass shower doors add beauty at an unbelievable level. Recently the cost of this custom option has gone down considerably. Now a standard 5 foot wide frameless glass door can be purchased for as low as $ 600. The functional advantage to frameless glass is the ease at which they are cleaned. On conventional framed glass doors the scum always collects at the seal on the frame. With frameless a simple pass with the squeegee and all is well.
Additional Recessed Can Lighting: This may be a no brainer but you wouldn't believe how may bathrooms we do which don't have a light in the shower. Being in the dark while trying to shower can damper even the best mood. Not only is it depressing but it can also be a safety hazard. Getting into the shower in poor lighting, after your spouse just finished moisturizing with almond baby oil is an accident waiting to happen, trust me.
These are only a few of the options we can incorporate into your design while planning you master bathroom remodel. Contact us today and schedule a time to look at your space and discuss what can be done. We look forward to hearing from you!