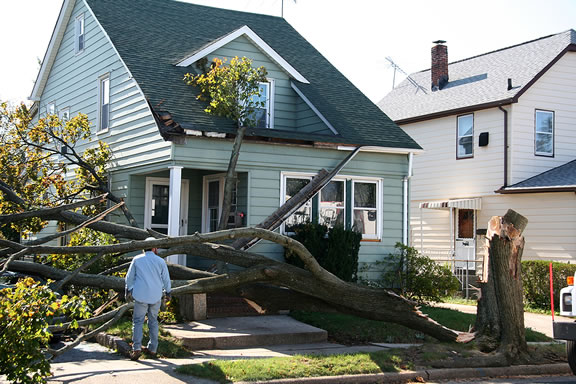 If you are seeking a reliable fire damage,water damage cleanup or restoration company in the greater Dayton Ohio area to handle all aspects of your fire, smoke, water, wind and/or storm restoration project, you've come to the right place!
We proudly serve a large area of the Miami Valley, often being referred by some of the country's top insurance companies.    Ohio Home Doctor has the experience and knowledge to provide complete Fire and Water Damage Restoration of your home or business, bringing it to a pre-disaster condition.
We also act as your liaison with the insurance company to make sure everyone's needs are met.  Our office staff is extremely dedicated to friendly and effective service. And, if we encounter problems, we SOLVE them!
Ohio Home Doctor's services include but are not limited to: Soot removal, smoke odor removal, water damage from fire hoses, all interior and exterior structural reconstruction, floor and carpeting replacement, tile & grouting, painting, electrical and plumbing services…ANYTHING it takes to deliver a pre-disaster home to our customers.
What makes Ohio Home Doctor different?  Personalized Service! 
When disaster strikes in the form of mold, water, fire or storm damage, you need a company that will understand your needs. When your personal possessions are damaged, you need someone that will take the time to sort out and save as much of your possessions as possible; because we care about your personal feelings and safety.
Whatever the severity, most victims find themselves in unfamiliar territory and rely on insurance professionals and restoration contractors to guide them through this traumatic experience.
When fire damage occurs the severity can range from light smoke damage to total destruction of part or all of your home or building.  A residential fire will often disrupt the occupant's normal living patterns, even up to the point where the home may be uninhabitable for several months while repairs are carried out.
In commercial situations time may be the most crucial factor as the business may suffer as a result of lost revenue during the restoration phase.  Using unqualified contractors can increase the cost of the claim through lack of specialized knowledge and unprofessional workmanship. Our technicians are qualified in all aspects at disaster restoration.
Please do not attempt to clean fire/smoke damage on your own.  Using improper cleaning methods can set the soot further into a material, or even render an item completely un-salvageable, which could also result in having a portion of your claim denied.  Whatever the situation or level of damage, it is of upmost importance that these services be carried out by a experienced and knowledgeable restoration contractor.
If you sense a strong odor in your home or business that you can not locate, it is very possible the odor may be derived from water damage inside of the drywall.  Many times the presence of water damage is unseen and it is definitely possible to have rotting in the foundation of your home that does not become evident through the drywall.
To Ohio Home Doctor, each claim is considered as important to us as it is to the home or business owner, and we have years of experience in providing immediate solutions and single source responsibility for all phases of the restoration.
We are here to restore your structure, contents, and peace of mind as quickly as possible.  We will assess and implement the most effective and timely reconstruction process with the understanding of the trauma the homeowner is experiencing. Our experts will work with you and your insurance company to quickly restore your property.
We will keep you informed during each step of the process, coordinate with all necessary parties and minimize disruption to your home or business.
We understand the anxiety of loss and the stress of life's disruption. We know you have no patience for slow paperwork, or unreliable workers or phone calls not promptly returned. This is why we build sound relationships with businesses and homeowners, agents and adjusters.
When we have completed our work, we want you to have a sense that, in a way, your life and future has been rebuilt too.  Hopefully, we will never have to meet under these conditions but, life is not always that easy.
However, if disaster does ever strike your home or business, call the company that can help put things back to pre-disaster conditions with just one call to Ohio Home Doctor Remodeling at (937) 605-6882.
You'll be glad you did!  We are experts at fire damage, water damage cleanup and smoke damage restoration and can quickly help restore your home and living conditions back to normal as fast as possible.