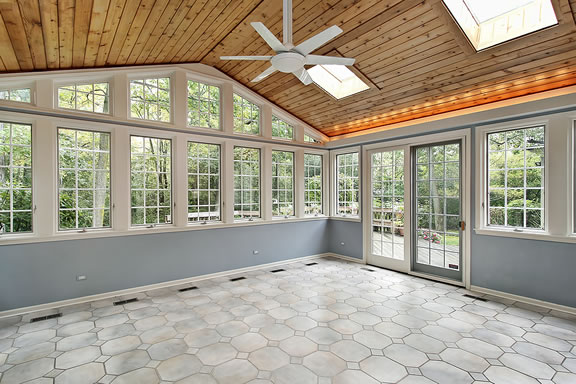 One of a Kind, Custom Sunrooms, Patio Rooms, Deck Enclosures and Screen Rooms by Ohio Home Doctor Patio enclosures, sunrooms, screen rooms and deck enclosures can all be built from wood, screen, glass, or many combinations.
Sometimes referred to as screened porches or sun rooms, enclosed patios or porch enclosures don't have to conform to the standard designs you may have seen around your neighborhood or in website photos.
Wood construction is the right choice when need more freedom in the design of your patio room, or when you want to maintain a rustic or natural theme for your home environment. Wood construction has almost no limitations. If you can draw it or dream it, we can build it.
There is so much more flexibility and room for design enhancements available to you that can meet your exact needs, using wood construction. Ohio Home Doctor can enclose an existing patio, or if you desire, can build an enclosed patio where none currently exists, from the ground up. We offer many choices of materials for the construction process, so the design possibilities are nearly limitless.
Enclosed patios, sunrooms, deck enclosures and screen rooms can be elaborate living spaces with electrical power, air conditioning, and lighting, or they can be simple and affordable spaces offering protection from the sun and rain.  Design your own enclosed patio yourself and we can help you make it a reality by providing technical expertise that will ensure the enclosure meets local building codes or, just sit back and let us take care of it all for you, the choice is yours.
For many families in different parts of the United States, their outdoor living can be restricted to only six months of the year. These same families who enjoy their decks and patios in the spring and summer months, are then unfortunately, forced indoors once the cold weather begins however, that space does not have to be sacrificed because of these conditions.
How?
Simply by turning an outdoor deck, porch or patio into a year-round sunroom, your family can enjoy the added space as well as the feel of nature for up to twelve months of the year. Your screen room can be whatever you need. It can allow the outdoors in while keeping bugs out. It can provide shelter from showers, sun or wind while allowing you to enjoy the fresh air. When designed with retractable screens, you can instantly merge indoors and outdoors.
Unlike a factory-made out-of-the-box screen room which will always appear as though it has been tacked on to your home. Ohio Home Doctor can customize your new room to blend perfectly with your existing architecture and setting.  Our custom-designed, custom-built patio and screen rooms will put you in control. You determine the purpose, size, shape, design, style, colors and the finishing materials.
The following are just some of the more popular features requested by our customers.
Custom columns:
Custom columns may match or compliment your existing home. They may be constructed of wood, brick, or any other material.
Ceiling fans:
Ceiling fans are highly recommended for patio rooms, pergolas, sunrooms, and screen rooms. Fans circulate the air and allow for outdoor cooking ventilation or just keeping cool. The circulating air from ceiling fans makes a big difference when spending time under your patio cover or room in hot weather with little wind.
It is much cheaper, and faster, to install ceiling fans when the patio cover is built compared to hiring an electrician to install them afterward.  You may choose your own ceiling fans from the Home Depot, Lowe's, or your favorite source.
Lighting:
If you have ever barbecued in the dark then you can appreciate the value of adding lighting to your covered patio. Aside from barbecuing or cooking, lighting allows you to enjoy your new outdoor living space after the sun sets for any occasion. Lighting for patio covers is typically accomplished by adding ceiling fans with incorporated light fixtures.
Ohio Home Doctor can install these fixtures as part of the project which costs much less than hiring an electrical contractor to install them after the job is done. We can suggest and supply your lighting fixture. You may also browse fixtures at your local Home Depot, Lowe's, or any retailer and select the fixture that suits you perfectly.
Outdoor kitchens:
Outdoor kitchens provide the ultimate in outdoor design for the true gourmet chef and there are many options that can be incorporated into your design. Or, just a simple barbecue grill can work just as well, again the choice is yours.
Electrical Outlets:
Electrical outlets can easily be installed in your new patio room, pergola, screen room, or sunroom. In simple applications, electrical outlets can allow you to plug in a radio or fan to enjoy poolside comforts. Electrical outlets can also supply power for complete outdoor kitchens, 110V and 220V power supplies are available as needed to power any appliance.
When electrical outlets are built into your new structure, you save money. It is more expensive to have an electrician wire your new structure after it is built.
Matching siding and roofing:
A patio room, sunroom, or screen room may be attached to your existing home. In these cases you'll probably want the roof of your new addition to match your home and look as though it were part of the original construction. This provides both aesthetic value while you live in your home and ads to the real value if you should decide to sell your home.
Our screen rooms, patio rooms and screen room deck combinations are one-of-a-kind, designed specifically for you, and know one else will have one like yours.  Instead of one of the same cookie–cutter prefabs you see EVERYWHERE that looks like a bunch of glass tacked onto your home, yours will be truly unique and reflect your individuality and your personal tastes.
There was a time when it was thought something like this was a luxury that only the rich could afford, but not anymore.  Today middle-class homeowners are beginning to recognize the benefits of this concept, and sunrooms and patio rooms are moving steadily in popularity up the list of home improvement projects.
A home improvement project of this nature can offer homeowners a 70 to 100 percent return on their investment.
How? 
A sunroom increases overall living space, adding to a home's square footage. For example, turning a 15×20-foot deck into a sunroom adds 300 square feet to the total area of the dwelling.
For a 2700 square-foot home, that is an increase in usable space of ten percent.  Not only does a sunroom offer additional living space; it can also pay for itself when it is time to sell.  Additionally, custom-built sunrooms are generally thought to be, better constructed and more compatible with the overall shape and nature of the house.
The method for building a sunroom is similar to that employed in building a room addition.
A  frame must be constructed leaving room for windows, doors and other features. The difference between a traditional room and a sunroom is that all the walls are usually glass rather than sheetrock or other solid wall components.  While sheetrock can be cut to size on the job, the glass used for the walls of a sunroom must be carefully measured, pre-cut and fit into the allocated framing. There is no room for error.
If the room will be used in colder climates, the glass must offer some insulation value. Certain types of glass are better than others, but obviously, the more insulation value added, the higher the price. Double-pane glass will offer the best insulation value and keep both heating and cooling costs down.
Certainly, adding additional living space to your home is advantageous in both the short and long run.  A sunroom expands your living space and allows you to enjoy the feeling of the outdoors year-round.  Later, when it is time to sell your home, this amenity can add to the resale value of the home.
Unlike screen room installers who employ low-skilled labor to assemble out-of-the-box kits, Ohio Home Doctor's personal, are professionals in the home improvement and remodeling industry.  With Ohio Home Doctor you are working with an established local company and contractor with a record of quality homes and additions throughout the greater Dayton, Ohio and Miami Valley areas.
We have worked with the owners of some of the region's finest homes to enhance their properties.  Existing or new patio room and deck – no problem, Ohio Home Doctor custom builds projects designed to meet the style and function that each customer requires.
Our expert builders can incorporate most any custom feature that you require. Let us know your ideas and we can include them as separate items on your quote.
To arrange a free in-home consultation on a design and build project,  for fastest response, contact us at (937) 605-6882 or if you would prefer, just fill out our "Request an Estimate" form on our site and, we will respond as quickly as possible.
Our patio enclosures, sunrooms, screen rooms and deck enclosures are each a one-of-a kind creation that will truly express your individual tastes and uniqueness of your home.