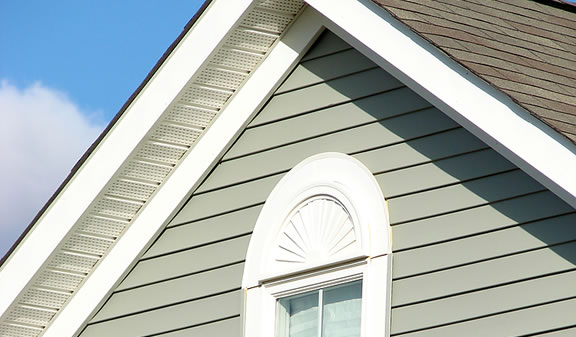 If you are contemplating new vinyl siding installation or repair of your existing vinyl siding in the Dayton,Ohio area, we can help.
Getting your home resided is a big investment so it only makes sense to take the decision of which vinyl siding contractor to hire seriously.   Ohio Home Doctor, your vinyl siding installation contractor in the Dayton, Ohio area ensures years of satisfaction by using only premium vinyl siding materials. Every job is carefully measured and planned to ensure rapid completion and full coverage, giving you a lifetime of lasting pleasure.
Homeowners looking to improve the value of their home, change its appearance, or just coming to the end of their siding's longevity would be wise to think about replacing their siding long before they have to.   Vinyl siding remains a very popular, maintenance-free siding material. It comes in a multitude of colors and styles to enhance the beauty and value of your home.  It never needs painting, is energy efficient and has exceptional wind resistance.
Most vinyl siding which is made from polyvinyl chloride, commonly known as PVC.  It is impact-resistant, strong and rigid.  There are a rainbow of colors to choose from for your Vinyl siding which makes it easy to match the colors of your home and your tastes.  It also does not blister or flake and, it cannot get termite-infested or moistened.
Vinyl siding can  range from .30 to .50 inches in thickness. The best quality vinyl siding starts at about .42 inches. Try to avoid anything less than .40 inches.
Ohio Home Doctor installs all brands of exterior vinyl siding products and insulated vinyl siding such as, Mastic vinyl siding, Certainteed vinyl siding, Alcoa vinyl siding and many others.   Vinyl siding , will receive about a 114.9% recoup of the cost when the project is completed, according to the 2005 "Cost vs. Value" Report on Realtor.com.   So, how much does vinyl siding installation cost?   The following are some guidelines when considering vinyl siding prices.
Vinyl siding contractors usually measure by squares, 1 square = 100 square ft.  Vinyl siding including installation on average costs about  $250-$300 per square.   For the average 2,000 ft. home that equates to about $5000 to $6000. Premium siding costs $400 to $600 for each square and more, which increases the price to $8000 to $12000 for that same 2000 sq.ft. home.
Some estimates might include installing soffit or fascia and even window channel. If they don't this will increase cost by $3 to even $10 for each  linear foot. Some homeowners may choose to install new windows or gutters during this same time.  Windows can add many thousands to your total cost, $200-$800 for each window is common. Gutters are about $4 – $10 for each linear foot.   Compare that to painting your house.   Most houses will need repainted in 5-10 yrs. Live in your house 20 years and  that's about 2 to 4 times during that time that you will need to re-paint.
If you have a  2500 sq.ft. home, and the average painting cost of $5000, for each time you paint, that comes to about $10,000 to $20,000 for painting costs during those twenty years. Now compare that  to the average cost of $5000 to $6000 for your vinyl siding.   Some other helpful things to consider when you want to hire a vinyl siding contractor are:
#1.  Find out about the contractors' work experience, especially with vinyl siding trim. The trim around windows, doors, and overhangs, etc. will make all the difference –trim work is labor intensive, and more critical to the overall appearance of your home. You also need to determine if the contractors are familiar with your roof type.
#2.  If you have issues with rot, etc., make sure that contractors discuss it with you. If other unexpected issues arise during the inspection, this should be communicated immediately, and the contractors should state how the problem will be addressed.
#3  It is important that contractors incorporate the removal of the old siding. Not only should it be included in the bid, but they should also tell you their process, and have a plan for dispensing with it. In fact, they should also tell you where they plan to store the materials and trash during the job.
#4  . Inquire about the application of the moisture barrier, the siding, flashing, the nail penetration, and so on. What kind of caulking will they use? If appropriate, depending on the siding type you've decided on, ask about the paint and finish as well. Lastly, be sure to ask about the application of the all-important trim.
#5   When installing your vinyl siding,  negotiate 3  to 5 years for your workmanship warrantee.  At least try to  make sure your contract guarantee is for 1 year, which will give you  time to find any  problems about the siding that may show up.
#6  Will the contractor also take care of any vinyl siding repair that may arise?   At Ohio Home Doctor, one of Dayton, Ohio's finest vinyl siding companies, we work with you to define the scope of your project, providing the best value for your budget.   If your wish is to eliminate painting, then these areas will be covered with custom formed aluminum coil stock or preformed vinyl extrusions.
We'll get every detail right, and your home will show the difference.   Proudly serving the following communities, Bevercreek,Bellbrook, Centerville,Clayton, Dayton, Englewood, Fairborn, Franklin, Germantown, Huber Heights, Kettering, Lebanon, Mason, Miamisburg, Middletown, Monroe, Oakwood, Springboro, Trenton, West Carrolton, West Chester, Wilmington, Vandalia, and many more!
For the best in vinyl siding installation and repair call Ohio Home Doctor, today!