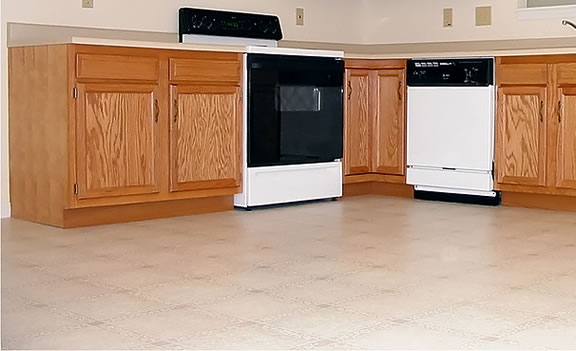 While vinyl floors have always been the first choice where moisture is present, now vinyl flooring can be your first choice when it comes to fashion, vinyl flooring has come a long way.   The vinyl flooring and linoleum flooring offered today is quite different than the vinyl floors of yesterday.
Manufactures such as Congoleum flooring and Armstrong flooring have taken these products to new levels of durability and beauty.   Believe it or not, vinyl, sometimes called resilient flooring, has changed dramatically. With more design choices than any other type of flooring, more realistic designs and textures and easy maintenance, today's vinyl floors are amazing.
Ohio Home Doctor has the brands of vinyl flooring Dayton, Ohio is looking for as well as being experts at vinyl flooring installation of all types of vinyl floors, resilient flooring and vinyl tile for residential or commercial situations, needing commercial grade VCT flooring.   At Ohio Home Doctor, we are happy to offer and install everything from base grade VCT (vinyl composition tile)  to the latest and greatest in LVT (luxury vinyl tile).   Thanks to some great advances in vinyl floor tile styling and technology, vinyl floors have been changed forever.
In fact, no other floor covering category offers you the selection, styling, ease of maintenance and value as a vinyl floor or vinyl sheet flooring!   Vinyl flooring can now realistically mimic the look and textures of real ceramic, stone and wood grain patterns. These amazing replicas have such incredible realism it is difficult for most people to tell whether it's the real thing or not.
Advances in construction and aesthetics have produced fashionable products that are both durable and affordable.   Resilient floors are capable of installation over many existing surfaces and are also easy to clean and resist stains better than most other floors. Simply sweep and damp mop from time to time to keep them looking new. Vinyl flooring also offers you many tempting advantages.
Below are just a few of these advantages:  
Why Vinyl?
Vinyl is flexible, affordable and easy to maintain.   Homeowners in the Dayton, Ohio and Miami Valley area love vinyl flooring because it offers an affordable, durable alternative to traditional flooring materials.   A vinyl floor covering is easy on the feet, ideal for moisture-prone areas and perfectly suited for kitchens and bathrooms. Because it's available in such a wide variety of textures and patterns vinyl can fit almost any decor.  Plus it requires very little maintenance.
Vinyl Style:
Today's vinyl is available in an unbelievable range of styles, colors, and patterns.  From traditional looks to more contemporary offerings, there's a vinyl flooring option to complement any interior design.   Select from three different types of wear surfaces, no-wax, urethane and enhanced urethane.
Low-low-maintenance vinyl flooring:
For the ultimate low-maintenance floor, we suggest vinyl flooring with an enhanced urethane wear surface. This option provides the greatest defense against heel marks, dirt and household cleaners used in high-traffic areas.
Resilient Vinyl & Luxury Vinyl Tile: (LVT)
There are several choices available in the luxury vinyl tile category that have taken off very well. These tiles are made to look like ceramic or wood and are, vinyl with a backer board.   They can be grouted, or un-grouted and sealed to provide a ceramic look at a lower cost with more durability. They can also be staggered, and with realistic knots and scraping, it looks just like a heavy duty wood floor.   You should know that many of the popular patterns today are inspired by nature, including those that imitate the exquisite look of natural stone. With such an abundance of patterns and new methods of texturing the surface, very realistic vinyl looks have been achieved.
Whether you want stone looking vinyl, tile looking vinyl, wood looking vinyl, or any of the hundreds of choices we offer, Ohio Home Doctor in the Dayton Ohio area will be happy to help you with any of your vinyl flooring needs!
Give us a call today at (937) 605-6882 for your FREE ESTIMATE and, find out why we are the experts at installing vinyl flooring in the Dayton, Ohio area for your home or your business!