Getting Started With Your Basement Bathroom!
Being a basement finishing contractor we get tons of questions from our clients and potential clients each week. A large portion of the basement questions concern installing a bathroom in the basement of a home. While the task may seem daunting to the untrained eye, getting a fully functional half or full bath into your basement design plan is an attainable goal.
The Plumbing:
First the existing conditions must be assessed. In most homes built after 1990 during original construction the builder will "rough in" the drains to accept a future bathroom. If this is your situation than Congratulations, adding the bath will be a simple and affordable task.
 Even if the "roughed" layout isn't just perfect for your plan we can remove the surrounding concrete, and modify the drains to comply with your desired floor plan. The average cost for adding a bathroom to a basement finish which has all the roughs in place is $ 4-5,000 dollars.  We have a comprehensive description of what's included at this price point here.
Now if during your initial exploration of the unfinished space does not yield existing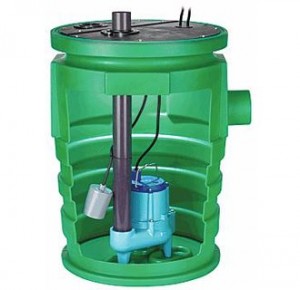 plumbing hook ups the next step will be to determine if an ejector pump will be needed or not. This can be determined by discovering the height at which the drains leave your home. If you can see the large 4 inch drain line leaving the exterior wall mid way up from the floor, then a pit will be needed. If you see existing floor drains or a drain stack which dives straight into the basement floor then the drain height is such that a bathroom may be added without needing an ejector pump.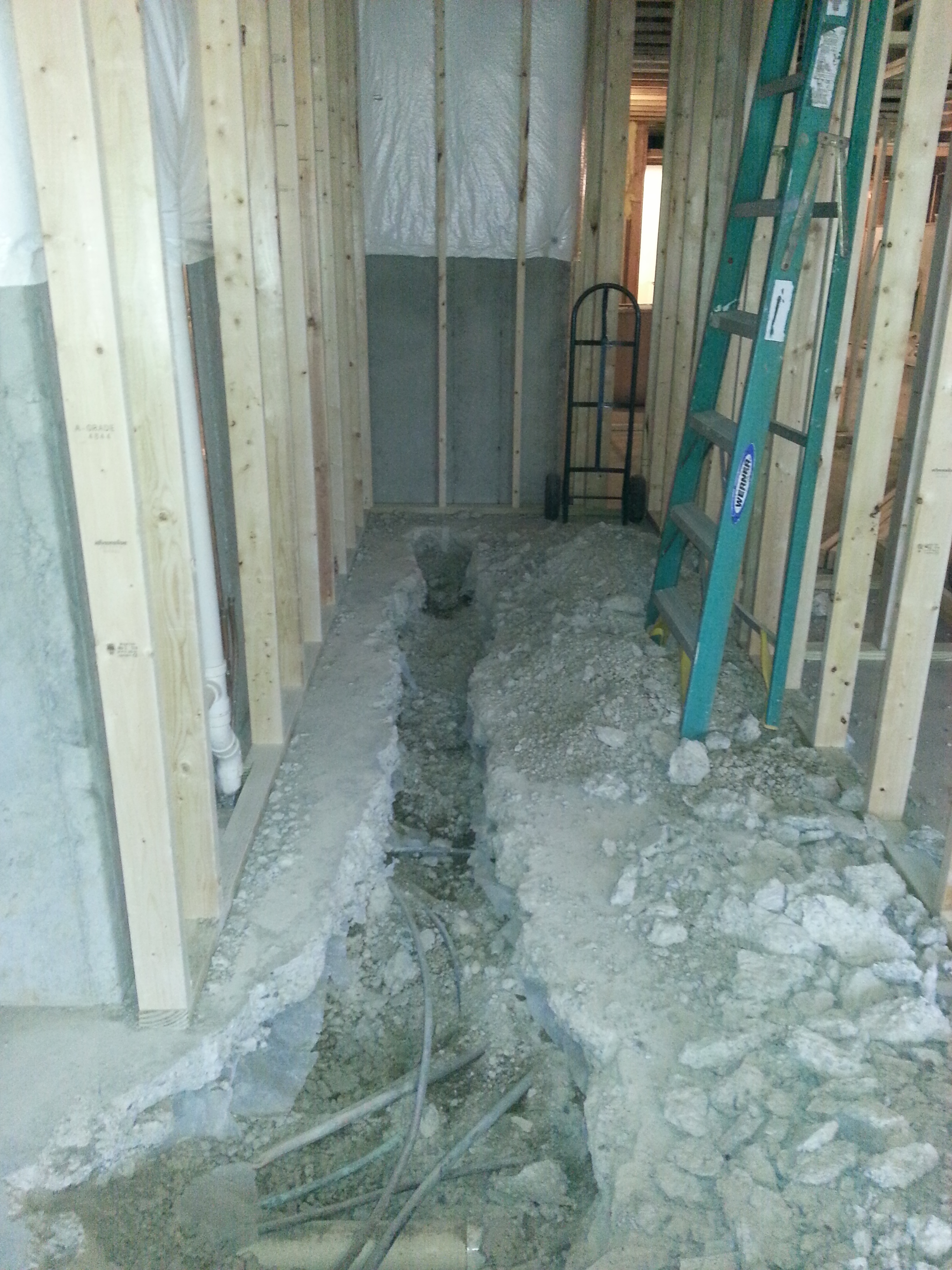 An ejector pump will cost $ 500-1500 dollars depending on the model and output necessities. Installation is typically 2-3X the purchase price including, concrete removal, digging, plumbing, and inspections. From the picture you can see that the ejector pump is essential a waste catch basin and a pump. Once the collected waste reaches a pre determined level the pump pumps it up following the newly installed drain lines to the closest approved drain location. As a rule of thumb the farther the away the closest drain is the more powerful of a pump will be required and the higher up the price scale you will be footing the bill for.
Drains are always the primary concern when laying out a potential basement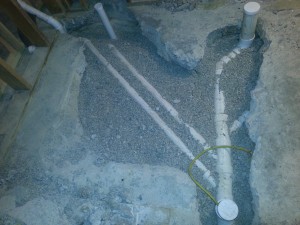 bathroom but it's most definitely not the only consideration. Water lines must be run to feed the new fixtures. Most frequently there are plenty of acceptable lines to attach to for this in your existing basement. You must be careful however not to attach to a line which will not provide the proper amount of flow for the new fixtures. Best case approach is always tying onto a ¾ or 1 inch run to assure that both you will have enough pressure in the new fixture but also to guarantee that existing upstairs fixtures and or appliance aren't being robbed by the new addition. It's always best to have a licensed plumber run your new lines. Not only is it the law in most state including Ohio but it is generally just a good idea to have a professional tackle such an important task.
The Framing:

After the rough in plumbing is complete the next step is the get the wall framing started. Be sure to always use pressure treated material any time a framing member i.e. stud touches the cement wall or floor. It's also a good idea when framing basement bathrooms to install proper blocking for; the shower wall board, any towel/t.p. bars, and vanity/pedestal sink installation. Taking an hour to install blocking before the drywall goes on will save countless hassle and work in the future. Anyone who has attempted to hang something without blocking can testify to how frustrating it can be.
Also be sure to comply with modern fire blocking codes when installing your framing. Failure to do so can result in numerous re-inspection fees and construction delays.
The Ventilation:
Not only is including a ventilation fan which vents to the exterior required by code but it is imperative to the proper function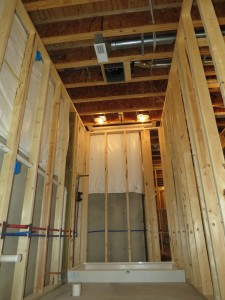 and longevity of your project. A fan must be installed and be pipe vented to the exterior. In a basement this typically means running a vent pipe in the joist cavity and exiting it through the exterior rim joist. It is a good idea to run the vent to the rear of the home as to not affect curb appeal in any way. When considering what fan to install consider whether a fan light combo makes sense for your situation. Fans are measured in two factors; how many cfms the fans pulls, and the quietness of the fan motor. The more you spend the better each of these values will be.
The Drywall:
It is a good idea to use moisture resistant drywall in all wet areas however it is especially important in a basement bathroom. For years moisture resistant drywall was green, now most of it is purple in color. Regardless of the color make sure your board complies with these standards. There are also products such as Denshield which has a fiberglass face instead of the traditional paper facing which can work well in these situations.  
The Shower: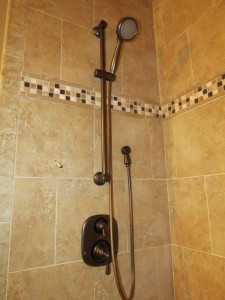 Shower options for basement bathroom mirror those for every other area of the home. Be sure that proper waterproofing techniques are utilized while construction your shower. Failure to do so will result in premature failure and considerable loss in investment.
The Paint:
When selecting paint for your bathroom, consider sheen more so than any other factor. A higher sheen paint such as eggshell, satin, or even semi-gloss is ideal since these higher sheen paints better guard against moisture intrusion into the wall board substrate. Some companies such as Sherwin Williams even have special paint especially formulated for the unique demands of a bathroom. A few extra dollars up front can save a lot of money down the road.
When preparing to install a basement bathroom these are all important and helpful considerations. If you have a question not covered here please let us know bellow. We always enjoy hearing from potential clients, DIYers, and other contractors alike. Hopefully this article gets you started off in the right direction to maximizing the impact your newly finished basement bathroom will have on you and your family. Thanks for reading!
Want more info on basement finishing? Check this out!