Ohio Home Doctor is Cincinnati's premier basement finishing company.  You want a beautiful basement in your home and you need the contractor with the experience to pull it off.  After finishing over 100 client basements over the last 15+ years we've been able to streamline our basement finishing services into a simple, easy to understand, affordable process for Cincinnati area homeowners like yourself.
Our talented craftsmen eagerly await the opportunity to "Show you what they have got!" in terms of outstanding customer service, attention to detail, and efficient scheduling.  You want a beautiful basement? We're the team that can make it happen and for a realistic price too!
Basement Finishing and Remodeling Cincinnati OH
Basement 3D design and drawing services
Complete top-to-bottom basement finishing
Walk-out basement converions
Basement man-cave construction
Egress window installations
Basement bathrooms and kitchens
From the very first phone call to the very last item on your basement finishing punch list, we Guarantee that you will be over-the-top happy with the work we've done on your home.
What's My Finished Cincinnati Basement Going To Cost?
While you have been researching your proposed project I'm sure the question of,  "How much will my basement finish cost?" has crossed your mind.
A quick internet search often uncovers more questions than answers as you get taken through the endless loops and forms to fill out for some of the larger home improvement lead companies (contractors buy these) and 3-5 different contractors will call you back, all battling each other on price (and sacrificing quality in the process).  Others attempt to lure you in with very basic low ball numbers which don't include items like; light bulbs, carpet, doors, paint, trim, outlet covers, and more.  This strategy is designed to get them into your door at which point the extras start piling up (and usually very quickly).
Years of hard work
, refining of our processes, and increased volume levels have allowed us to put the very
best
pricing up front for our clients.  
"Nobody Includes What We Do, How We Do It, For The Price We Do It For,

Period

!"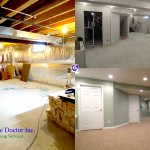 At Ohio Home Doctor we have taken the guess work out of the equation! Our exclusive Finished For $24 package is now available, and being offered to ALL Cincy area homeowners. This package price point includes everything you need to enjoy your basement in as little as 4-5 weeks from now.
How Can You Price A Basement Remodel Like This?
Now you may be wondering, "How it is possible to package price a basement finishing project like that, when nobody else does?"
The answer is simple: We have done A LOT of them! In doing so we have developed a very firm grasp on our costs and time involved. Accurately tracking our costs and having the experience of 100's of completed projects behind us has enabled us to offer you an outstanding package price on your finished basement.
While its true that we offer upgrades that can bring up the cost a little higher than $ 24 per square foot, we have found that the majority of clients are looking for simple finished spaces for their kids to play in, adults to relax in, and a space where entertaining can be done without creating a mess inside the rest of the house.
If you're curious how much your basement finishing project is going to cost, go downstairs and measure the square footage.  If you need help measuring call us today and we can either walk you through it, or do it for you.
Heard Enough? Schedule a Free in home consultation today by filling out the contact form below. We answer most requests within 24 hours.
Have Questions? Let us know. We are always happy to hear from you, and look forward to talking about your project, with you, in the near future!