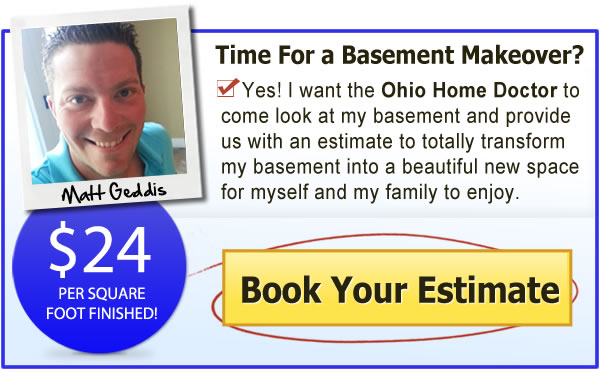 The first step is to contact us to schedule a time to meet for the initial consultation. This can be done either through this site, or by calling us at (937)605-6882. We do FREE estimates! Our company owner personally meets with each and every client during the initial consultation. He is also on every job site almost every day. This style of doing business creates a huge amount of accountability and eliminates confusion of dealing with multiple company reps.
Initial Consultation:
We will meet with you at a time which is convenient for you. Keep in mind that most of our clients work during the day so the 4-5pm time slot is very popular. If this is also your situation please be prepared to schedule out a week or so. If you are available during the day, in most cases we are able to meet the same or next day after contact.
During this first free consultation we will survey your conditions, listen to your needs and wish list, make budget conscientious design suggestions, and take measurements from which your building permit application is derived from.
We DO NOT provide a contract during this initial consultation. We are not a high pressure close now for this price style company. We understand how large an investment this is for you and would never insult our neighbors with the greasy practice of one call close based discounting. In most cases when this technique is deployed its due to large companies having huge service areas. The cost for them to have someone come back to your house is huge. We are your neighbors and are happy to work with you at your pace.
Expect to have our proposal in hand the next day!
Select Your Contractor:
While comparing estimates keep in mind that Apples to Apples comparisons in remodeling can be complicated. For one you must ensure that the potential proposed scopes of work jive with each other.
Make sure that all companies are bidding the same amount and quality of work. For instance, if one company has included carpet installation and another has not, make sure you get a qualified quote from a flooring company and add that number to the appropriate contractors proposal price.
Hire Ohio Home Doctor!
Congratulations! You have decided to save money and employ the finest area craftsmen for your project at the same time.
Pre-Construction Meeting:
Once we receive verbal approval of our contract we will come back out to your house for the pre-construction meeting. We ask that you print two copies of the contract we emailed you so that you are 100% there are no hidden clauses, and so we don't have too..
The down payment is made at this time and your project is entered into our system for scheduling. Typically we can start your project within 2 weeks of the pre-construction meeting. Keep in mind permit approval and special order material availability may effect this.
Building Permits:
After our pre-construction meeting we will finalize the building plan including notes pertinent to your applicable municipality. The building inspectors know us and we know them. This helps significantly when getting our permit applications approved.
We have a reputation for exceeding minimum code, something we are very proud of.
Once your building permits have been applied for we order all the materials pertinent to your project. In most cases we will stock the materials during day one of construction but in some cases we will stock materials a few days before we start depending on the availability of lumber yard deliveries.
What You Need To Do:
During the period of time between the pre-construction meeting and the estimated start date we request that you clear your personal items out of the to be finished spaces. It is important that you do this both for the safety of your items but also to allow our craftsmen an unobstructed safe worksite.
During this time we will also send you a product selection chart which clearly outlines the decisions we require from you including but not limited to, paint color, fixture finishes, and carpet selection. If you need assistance with product selection we offer limited design assistance at no additional charge.
In preparation for day one of construction we also need to make arrangements for our crews to access your home during the basement finishing process. Typically we use a garage security key pad. We prefer to have a code programmed especially for our crew leaders. This way it can be changed upon completion to eliminate all doubt when fluffy swallows the family heirloom.  Only your project manager will be given this code. In the event a  trusted specialized contractor is necessary for your project, your project manager will meet them escorting them into your basement, securely locking up your home upon completion.
Construction Begins:
During day one we will stock the necessary materials. When possible we stock all lumber through a basement window which minimizes the mess made during this crucial step. If not an option we will install floor covering protectors prior to the increased amount of foot traffic in your home. One of our primary focuses is always cleanliness.
As for restrooms, it happens, for us too. We request access to one of your first floor bathrooms during construction. If this is not acceptable to you, we request you letting us know prior to the pre construction meeting so that the cost of a Porta-John may be added to your contract price or other arrangements can be made.
Our typical work week is Monday through Friday between the hours of 8am-5pm. Select Saturdays are worked to meet deadlines. If you have special scheduling demands, please just let us know in advance and we will see what we can do for you.
Enjoy Your New Beautifully Finished Basement!
While our clients enjoy having us around for a few weeks their favorite part must be when we go, and they can truly unwind into the new functional extension to their home. Personally my favorite part is watching the kids run from one side to the other as soon as we are done, and before furniture arrives.
Finished basements often times double the square footage of a home. What will you do with ALL that extra space?
Basement Finishing Form
We would love to hear from you! Please fill out this form and we will get in touch with you shortly.