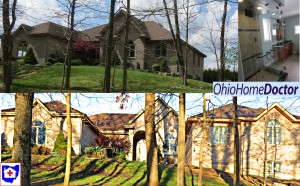 Getting Started-
There are many reasons our clients decide to build room additions, whether it's personal attachment to a property, or the addition of a new family member. Often times the most logical approach to attaining the living space your family needs is building a room addition to your Dayton, Ohio home. Additional square footage can morph your home's functionality to accommodate your changing needs.
Get the Right Team Working For You-
After deciding that a build is in your near future the next step is to find the right design and build team to tackle your project. The process of getting started will differ from contractor to contractor. Some companies utilize part time in house design staff while others like Ohio Home Doctor have developed working relationships with some of Dayton's finest architects and designers. Nothing can substitute for experience, and that is what we bring to the table.
Getting the Right Plan Together-
After our initial meeting we can asses your goals, and budget and make an architect recommendation based on your personal needs. We believe this provides you with the best possible fit and saves you both valuable time and money while finding the right designer/architect to formulate the actual building plans for your build. Having worked with these design teams over the years we are able to provide priceless real time feedback to our clients while they play around with possibilities during the design phase. This allows you to adjust the plan and entertain different ideas in a quantifiable manner while you work to meet your needs and budget.
Selecting The Right Contractor-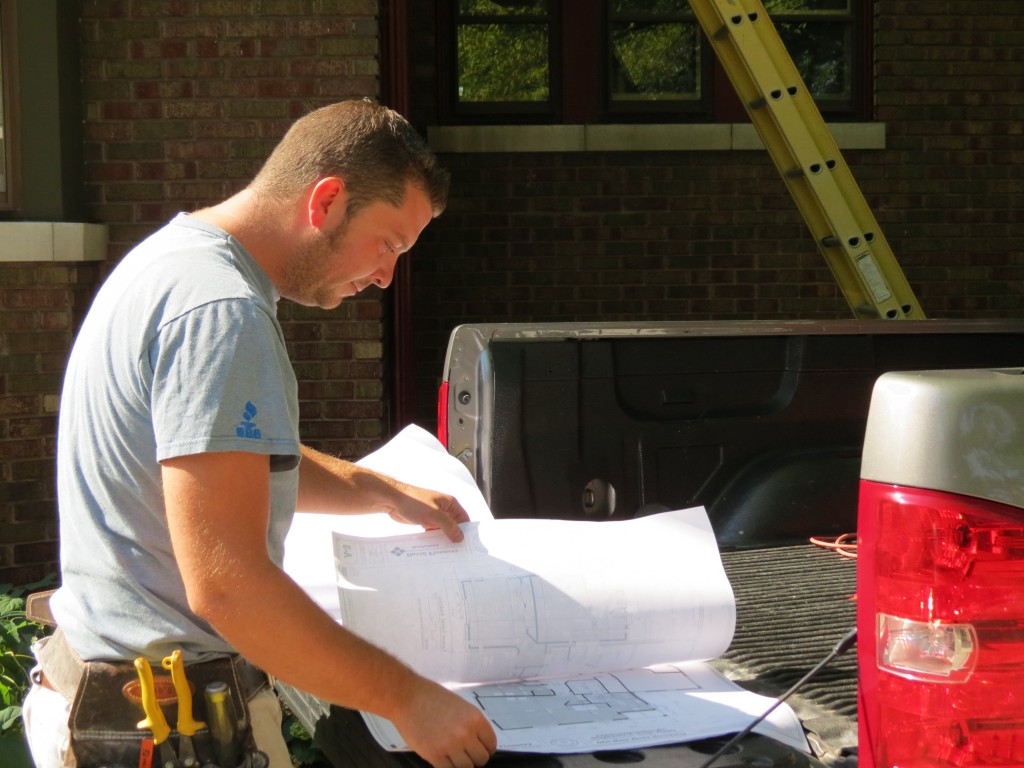 Upon completion of the plans the chosen architect will submit copies to both the client and potential contractors. You the potential client pay for these blue prints and thus own the final design. This allows you to shop for contractors in as close to an apples to apples manner as possible. Often times by the time you finalize the building plans the clients have selected their builder of choice since the design phase offers a great opportunity for the client to spend time interviewing the potential contractors with pertinent questions regarding your specific project.
We are here for You-
If you hire the right design/build team the entire experience can be both fun and rewarding. Ohio Home Doctor's owner Matt Geddis enjoys meeting with clients on a daily basis to assist them no matter what stage of construction they are entering.
Do yourself a favor and hire a qualified team of professionals like Ohio Home Doctor for your next whole home remodel or room addition build in Dayton, Ohio.
Check out this featured Room Addition build completed recently by Ohio Home Doctor.
The Myers family approached us looking to expand their recently purchased home to make space for Grandma to move in with the family. We met with Mr. Myers several times to discuss the possibilities. He decided to hire our company after interviewing several other established local companies and recognizing what made us different in the way of a streamlined process, transparent pricing, and a concentration on outstanding craftsmanship.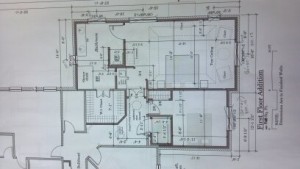 We recommended local architect David Flannery to the Myers family and work began. Scott Myers and David Flannery worked  together for a few weeks hashing out various design options while I (Matt Geddis) was able to provide real time costing to the situation allowing Scott to maintain a firm grasp on the overall final budget.
The plan on the right is the final first floor design which included; two stories, a new master in law suite, a steam shower, walk in closet, 4th bedroom, hallway, vaulted ceilings, Pella windows, a kitchenette, and an elevator.
The basement level included; a study/library room, a mechanical room housing a new furnace, hot water circulation system, walk out office, and game room for the children. The basement level also included a secondary mechanical room for the elevator control equipment/motor. Using homasote soundproofing board we were able to smartly conceal the inherent noise making the elevator function smooth and quite.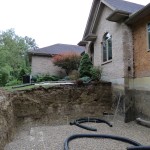 Among the first steps of construction was preparing the existing home to receive the new addition. This included excavating a large amount of existing earth around the area, and cutting much of the existing foundation out to make way for the new amenities.
In the picture on the left you can see the perforated pipes we used as temporary gutter drains during construction to force any rain water we received away from the work area to prevent delays due to weather. Once we get started on an addition we work as fast a possible to ensure that each stage is finished in a timely manner as to not allow weather to effect our schedule.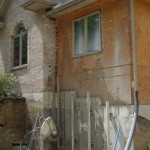 To ensure our cuts were precise we utilized hydraulic powered wet saws mounted to guide tracks. This guarantees a straight cut, which is deep enough to get through the in this case 9 inch thick concrete walls. Prior to beginning the sawing we framed temporary support walls on the interior to carry the load of the existing house. This in conjunction with the sawing technique shown on the right allowed us to safely and efficiently tackle one of the most involved portions of this addition build.
Removing the shown portion of existing foundation wall allowed us to seamlessly integrate the existing and new spaces. Without doing so there would have been limited access into the new office and study. The easy way out would have been to simply remove a portion of the non load bearing side and installing a 36 inch man door. Instead of meeting code and making it easy the architect, Ohio Home Doctor, and Scott (client) opted to maximize the flow and functionality of the new addition. While designing these spaces we keep the clients best interest always in mind. It is imperative that the new areas are functional and assimilate flawlessly into the rest of your home.
Once the home was supported and the existing foundation was removed, we went straight to work on the foundation for the new room addition. We used aluminum wall forms as shown in the first picture above. The second picture shows the completed form waiting for concrete. For this project we brought in a concrete pump truck since access around the entire project was tight due to existing forestry which we didn't want to disturb. Once the walls were poured we removed the forms and installed the perimeter and under slab drainage systems. Prior to back filling we installed a two step foundation waterproofing membrane. First the cured concrete was sprayed with tar waterproofing. This is all that is required by Ohio Building Code. Good enough for code just doesn't cut it with us. Therefor we then installed a monolithic dimple board waterproofing membrane shown in the pictures above. This provides an additional barrier and effectively manages ground and rain water for the life of the home. A small additional cost with a huge benefit to this client.
Now that the footing, foundation wall, and foundation waterproofing were in place we started framing. This   addition feature 2×6 exterior walls, engineered structural beams, 3/4 CDX plywood decking, 1/2 plywood sheathing throughout, and an engineered truss system.
Our company, Ohio Home Doctor was able to dry in the entire 1800 square foot addition in 3 weeks while protecting the structure from ever getting wet. Dry in refers to the completion of framing, installation of roofing and windows, and the application of exterior rain screens such as TyVek. This may sound simple but anyone who has ever seen what rain can do to interior framing during a new construction build will appreciate this.
The finished product turned out wonderfully. We were able to match the brick almost exactly even 15 years after the homes original build. It most definitely does not look like a room addition which is one of the signs of victory to us. Nothing worse than driving down the road and saying, "wow, look at that room addition!"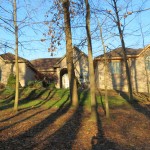 The finished product added balance to the original home's design. What was once an L shaped home is now balanced; the garage on the left and the new addition on the right. This balance created a courtyard like entrance way leading to the home's front door. Driving by this home it just looks like the really nice big house on the left, not the one with the addition on it.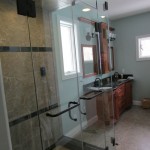 The steam shower turned out really well boasting floor to ceiling European style glass doors, granite curbs, rubbed bronzed Moen hardware, a secondary rain head, a teak bench, custom porcelain tile work with granite accents, and a state of the art ThermaSol Pro 240 steam generator.
The bathroom vanity was built custom for this client using stock cabinetry from one of our local suppliers. Approaching the project this way allowed us to provide our client a very high end look at an amazingly affordable rate.
Ready to schedule a time to meet with Matt and discuss your project? Just fill out the form below and we will get back with you as soon as possible to schedule a time to meet at your home to discuss the possibilities. This client has also offered to allow us to bring potential future clients like yourself for a first hand tour of their home so that you can see for your self what makes hiring Ohio Home Doctor for your room addition build your best choice. We have many addition builds all over the area. Our experience allows us to effectively manage your project no matter how simple or involved it may be. Don't allow someone to practice on your home because they said they can do it; hire the best the first time and rest assured you will be in good hands!
Check out the kind words this client posted for us on our Google Page.
Scott Myers
When my family needed a large home addition (1500 sq ft), I spent months interviewing numerous contractors.  Having experience in construction myself and being an engineer, I knew what to look and ask about.  Finding one that was responsive and that truly had the skills necessary to work with me and an architect turned out to be more difficult that I would have imagined.
The new home addition included tying into our existing home and following architectural plans that would make the outward appearance of the home look as if the addition was there from the first day the home was built.  NOT an easy job.  I was more than pleasantly surprised when I found Matt Geddis of Ohio Home Doctors.  The skill and efficiency of Matt and his team was superb. This home addition includes 2×6 brick exterior construction, walk out office with specialized wiring, elevator, large mother-in-law suite with custom kitchenette and cabinets, custom bathroom with European style glass wall shower with steam room generator, study, guest bedroom, built in surround-sound, completely wired for Cat5 and security, and storage/HVAC room.  This list goes on.
Every aspect of the job was handled with great attention to detail.  There was no "just making code"; it was built well beyond code requirements.  Learned quickly that I did not have to follow behind Matt and his team to make sure they were working to a high level of quality.  Matt kept in constant communication with me throughout the job and I did not have to chase him.  If you've ever worked with contractors, you know how important not having to "chase" you contractor is.
The elevator that was put into the addition for my Mother-In-Law was Matt's first elevator install.  While an elevator company handles the hardware install, there is a lot of detail that goes into the elevator shaft and door system so that everything lines up perfectly; it was one of the more complex parts of the addition.  Matt handled this as if he'd done a dozen before.  The elevator supplier was anything but easy to work with, but even though they were difficult, Matt kept after them and made sure they got the job done right in the end. The finished project is marvelous.
From the custom bathroom with plenty of granite and glass, the mother-in-law suite with its  to my new office with its exotic wood floors and 5' wide glass French doors.  I couldn't be happier with it. Matt Geddis and Ohio Home Doctors is the best contractor you'll ever work with, bar none.  Whether you're just doing a small basement job to a large addition (or even an entire custom home), you'll not find a better construction contractor in the Southwest Ohio Area.  Matt and his company are the best of the best that I have ever worked with.
We are truly humbled by Feedback like this! Thanks Scott!
Main Contact Form
We would love to hear from you! Please fill out this form and we will get in touch with you shortly.