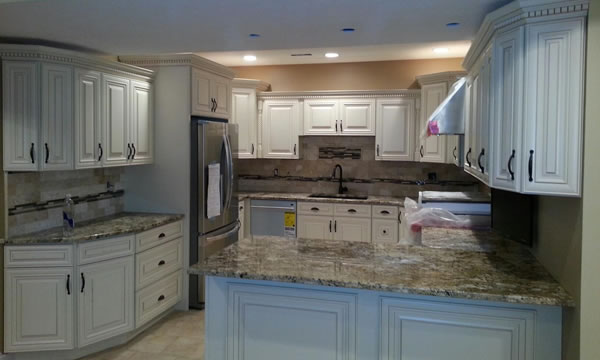 Kitchen Design and Build Services in Cincinnati, OH.
Hiring a kitchen designer yields immeasurable benefits while planning your upcoming Cincinnati kitchen remodeling project. A designer with experience in kitchens can assist you in not only design but also how the new space will flow into your existing home. Often times a kitchen sets the mood for the rest of the house.
Being the focal point and gathering spot for most families the kitchen needs to not only be functional but also beautiful. Ohio Home Doctor provides both kitchen design services and kitchen remodeling in house and employs specialized designers based on the individual needs of the client.  Whatever they design for you we can build it too.
For smaller budgets it often time makes sense to allow our talented in house designer to formulate the plan and with your guidance design the new kitchen space. For larger budgets and larger spaces it does at time make sense to hire a specialized kitchen designer. We can recommend someone we have worked with in the past or work with your existing team. Whatever your needs may be know that we are here to help!
The following will outline a few of the major items to keep in mind no matter the direction your design takes you.
The Kitchen Work Triangle
Consider the Work Triangle while designing your new kitchen. What is a work triangle you ask? A work triangle is defined by the distance between your sink, refrigerator, and the stove. Minimizing these distances while maintaining enough room for multiple people to move around allows for efficiency while cooking and cleaning.  Maintaining a workable triangle should remain one of the primary focuses while the new space is laid out on paper. While those three amenities (sink/fridge/stove) are the primary focus we like to add a leg to the triangle and include the dishwasher too.
The Kitchen Island
The Kitchen Island is making a comeback! Islands produce not only the additional countertop space that most people yearn for but also add to the beauty and function of the space. More than half of the new kitchens we design have an island in the plan. A kitchen island is typically comprised of a group of base cabinets attached together with countertop on top. In cases where seating is in the plan at your island keep proper overhang support in mind. Granite should not cantilever more than 6 inches unsupported. Ask your contractor how he plans to support the load of the granite. In most cases a combination of plywood and steel brackets is the solution. Island are also a good spot to include amenities such as; a wine fridge, the range, additional storage, or an additional sink to allow ease in prepping food for group entertaining.
An Open Kitchen Floor Plan
Attaining an Open Floor Plan is another popular option. When possible removing a wall even if it requires installing a load bearing beam is money well spent. Enlarging the kitchen to get that open feel allows for cooking and cleaning while still being a part of the family/party. If a beam is necessary then consider installing the island under it which creates balance and visually conceals the beam. Open floor plan kitchens are not only beautiful but they also add a considerable amount of value to your home.
The list of designer options is endless and therein lays the benefit of employing a professional designer for your kitchen remodeling project. We hope this helps you get started on the right foot. If you have any questions please feel free to let us know below. Let us know how we can integrate into your project!