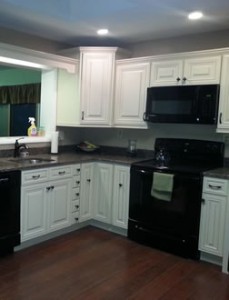 The kitchen is the hub of activity in most Cincinnati OH homes. It is where the family gathers after school, after work, around meal times, and especially during the holidays. Is your kitchen not living up to its full potential? Does it not meet the needs of you or your family any long? Have you been dreaming of a new custom remodeled kitchen?
Since you are here chances are good that one of these apply to you. The good news for you is you are in the right spot!
Ohio Home Doctor has been turning drab boring un-functional Cincinnati kitchens into showroom quality masterpieces for the last decade. We have developed lasting relationships with local suppliers and designers which WILL save you tons of money on your kitchen remodeling project.
Want a kitchen that looks like $100k from a magazine but only want to spend a fraction of that? We can Help! When getting ready for a new kitchen it is helpful to make a list of what does and what does not work in your current space. A great time to do this is while preparing a large meal for your friends and family. Knowing what is missing will be an invaluable asset to you while designing your new space.
Your new kitchen can be designed to meet any style or budget. Ohio Home Doctor can build a custom looking kitchen out of stock cabinetry from various suppliers or commission the finest craftsmen around to build that perfect something you have always dreamed of.
How Long Will Your Kitchen Remodel Take?
The average kitchen remodel can be completed in 1-2 weeks depending on size and complexity. Our process ensures very little down time and a timely completion. We design the new proposed space prior to the start of construction so that the time between cooking your last meal in your old kitchen and entertaining in your new kitchen can be as short as possible.
Using our relationships with local countertop suppliers we are able to have granite countertops fabricated and installed in as little as 4 days from start to finish. If granite is not in your plan then allow our talented designers help you select the perfect material.
Remodeling your kitchen can be an easy and rewarding experience with the right team on your side. Employing Ohio Home Doctor assures that you will receive top quality results at an affordable rate will enjoying a refined and finely honed process our clients frequently rave about!
Contact us now and find out for yourself how easy and pleasurable attaining the Cincinnati kitchen of your dreams can be! We look forward to hearing from you!