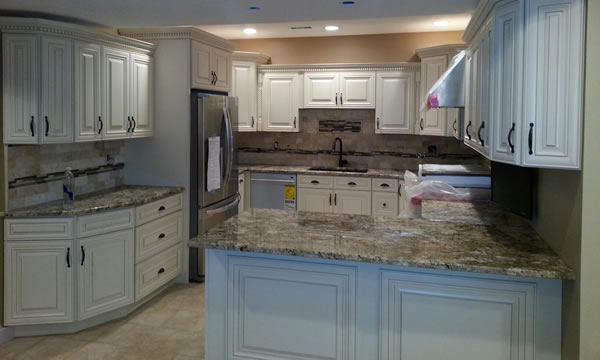 Granite is a beautiful stone commonly used for kitchen countertops throughout Cincinnati homes. People select granite for its attractiveness and low maintenance qualities. Granite comes from all over the world from countries including India, Italy, and yes even the United States. Granite is the most popular countertop material and offers a very high end look at an affordable rate.
Granite comes in different grades and price points determined by its visual appeal, availability, and popularity. Most suppliers have a unique way of grading their stones so care must be taken when comparing quotes from multiple vendors.
Our Granite Countertops Process in Cincinnati
We carefully measure your countertops.
We go through color/grading options with you.
Your granite countertops will be cut/polished.
We will install your new granite countertops.
We will cleanup any mess we've made.
You'll be left with beautiful new granite countertops.
One nice feature of solid surface tops such as granite is the ability to include an under mount sink into the design. Under mount sinks are typically stainless steel and can be mounted bellow the countertop level. This eliminates the lip found in older kitchens. This allows cleaning to be done directly into the garbage disposal. This ease makes granite all the more popular.
Another nice feature of granite is its availability. Granite countertops can be measured, fabricated, and installed in as little as 4 days. This is of great value when including granite countertops into your kitchen remodeling project, or when new countertops in a hurry are a necessity.
When planning your granite countertop installation keep in mind the cost is figured in large part due to the amount of cutting and polishing that must be done to fabricate your tops. The average backsplash has more lineal foot of this than the top itself. Eliminating the granite backsplash from the order often times save enough money to have a tile backsplash installed instead which is a much higher end look.
Ohio Home Doctor enjoys a contractor discount at our local supplier and is always happy to pass that onto our clients in Cincinnati who'd like great looking Granite Countertops. Let us know what you have in mind for your kitchen countertops and we will let you know how we can help!