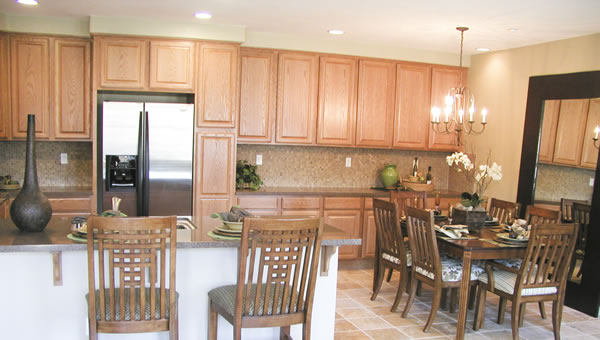 While considering your next kitchen remodeling project in South Eastern Ohio there is no bigger selection than finding the perfect kitchen cabinets for your taste and budget. Kitchen cabinets come in various forms ranging from the more expensive all wood to the less expensive veneer plywood types.
When considering which cabinets will be right for you it is helpful to establish a rough budget first. This will help steer you in the right direction.
Kitchen cabinets come in may different styles and options ranging in cost from $80 per cabinet on the lower end all the way up to $800+ per cabinet for custom options.
Having a budget established will allow you to look at the right product lines for your project. There is nothing worse than falling in love with a set of kitchen cabinets which costs more than you're willing to spend, and vise versa getting discouraged looking at products which don't meet your discerning taste.
Knowing what you are willing to spend often times catapults you in the right direction.
Having an experienced contractor in your corner from day one also helps when deciding what cabinets to purchase. Not only do contractors get discounts at most of the local suppliers but we also have been around the block previously embarking on many projects similar in nature to yours. We know where to go, and who to talk to. Put this experience to work for you and hire Ohio Home Doctor!
Cincinnati Kitchen Cabinet Options
Kitchen cabinet options you find in-stock at your local building supply may sound cookie cutter but the truth is that almost every kitchen can get that million dollar custom look by smartly utilizing stock sized cabinetry.
Stock kitchen cabinet lines come in many different sizes and styles and are typically less expensive than custom options. Suppliers who carry in stock cabinetry options are able to quickly fill orders which can shave months off of the lead time associated with kitchen remodeling. (yes custom kitchen cabinets can take that long!)
Selecting stock options also benefits the homeowner if something comes damaged during shipping. In most cases a replacement part may be picked up the same day. Anyone who has dealt with special order items will know how valuable this benefit is.
Custom kitchen cabinetry lines offer a world of uniqueness and options. Selecting custom built cabinetry cost significantly more (a lot more) but does away with fillers and limited options. Custom cabinetry usually cost between 2 and 3 times the cost of stock cabinetry to give you a rough idea.
The typical lead time from ordering to receiving shipping can be anywhere from 4-12 weeks depending on the selected manufacturer and how popular their cabinetry is. Ohio Home Doctor has developed a lasting relationship with several local cabinet makers and can set up times for you to interview potential options.  These are highly skilled craftsman and they can build you a beautiful set of kitchen cabinets if that is what you're after.
Soft close hinges are a popular option for most new cabinetry. Everyone knows how annoying the slam of a cabinet door can be. Avoid that forever with soft close hinges. These hinges come standard in most all stock and custom cabinetry now days. Looking for something truly special? Ask about special order Blum hinges which offered a broad variety of features.
No matter what you have in mind for your kitchen cabinets Ohio Home Doctor can assist you in finding and selecting the perfect product for your project. Just let us know how we can help!