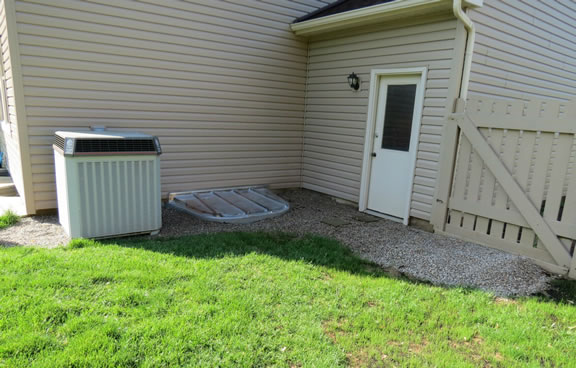 What You Should Know About Walk Out Basement and Egress Window Construction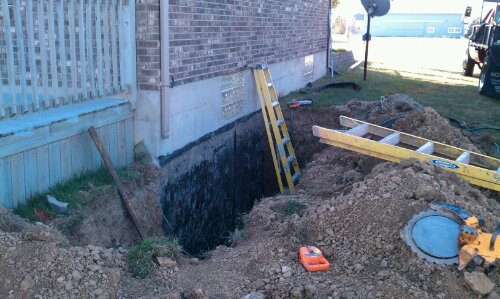 Adding an Egress Window to your basement opens up a typically gloomy space to a world outside.
Egress windows have many advantages besides being a smart financial decision. The first, and my favorite, is the natural light the egress window allows into your gloomy basement.
Even the nicest finished basements always lack two very important features, natural light and abundant fresh air. Natural light livens up a room, allows for natural plants to flourish, and tends to makes people happier. Imagine for a second you are sitting in your basement office, or bedroom and being able to gaze out and see the sunny day around you.
Or being able to accommodate a growing family and have the piece of mind that your loved ones are safe and protected in the event of a house fire. Dayton Ohio Building Code dictates the installation of an egress window in every below grade sleeping room because like smoke detectors they save lives.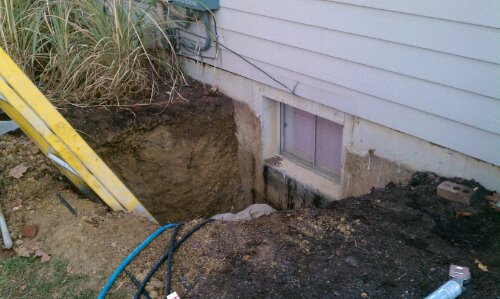 The fresh air will undoubtedly make you smile and the added safety will allow you to sleep better at night. Choosing an egress window contractor  in Dayton Ohio and the greater Miami Valley is a decision that must be made with care.  Do not be fooled by do-it-yourself blogs which can make it sound easy.  Installing an egress window is an involved and very technical task.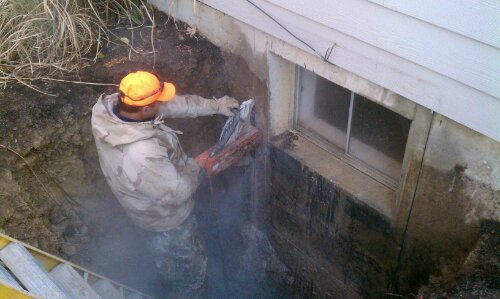 In order to install one, your foundation must be cut, yes the foundation which holds your house up.  Also the drainage system must be properly tied into your home's existing drainage system.  
Tip
Be sure to ask potential egress window contractors how they deal with the drainage. Many areas of Ohio are laxed on regulations for the installation of these well systems and consequently several area contractors dont even tie the drains into your curtain drains. If you feel like they don't know the answer, be concerned.  Improper installation can be disastrous and turn your potential gem into a never ending nightmare.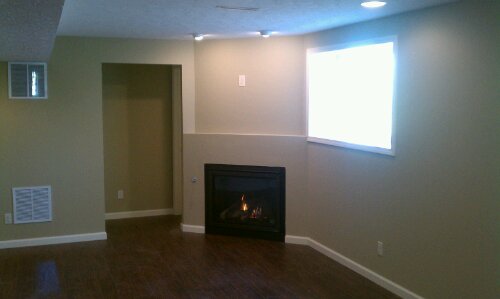 Also ask how they intend to cut the foundation.  If they say anything other than a track mounted hydraulic wet saw tell them, " Thanks, but no thanks!" Installing an egress window is not a job for a handyman or weekend warrior.
Be sure to select someone with experience and a track record.
Ohio Home Doctor is proud to be Dayton Ohio's premier egress window installer. We have installed every style of egress window well and have weeded out the low quality and over priced options for you.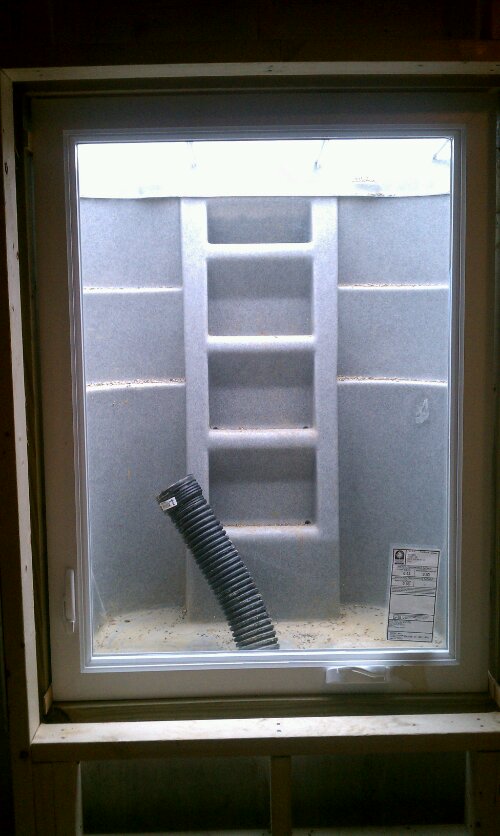 According to Webster's dictionary,  the term "Egress" is defined as, "to emerge" or "a path out".  The literal definition is very appropriate since egress windows provide just that, "a path out" through your typically impenetrable basement walls.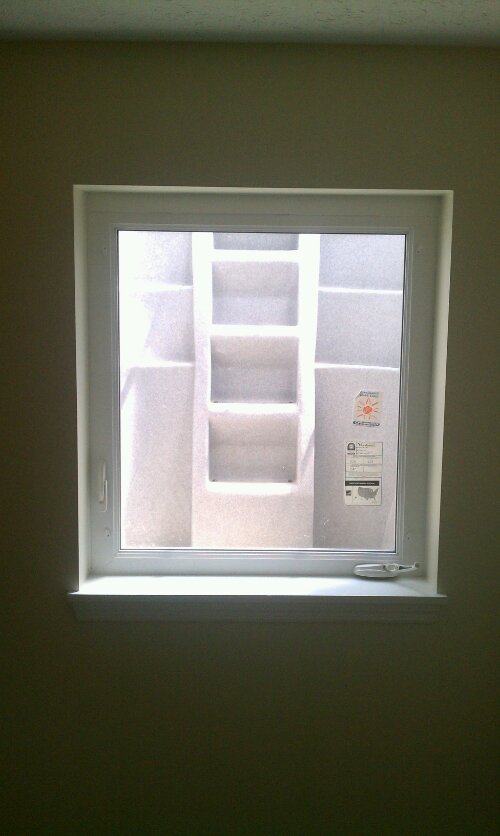 In the greater Dayton Ohio and Miami Valley area, the building codes dictate that any basement containing a bedroom or sleeping room must contain an egress window and approved egress window well system to facilitate occupants' escape in case of fire or other natural disaster.
Adding an egress window in Dayton Ohio not only provides priceless peace of mind, but also adds value to your home, and increases your quality of life while spending time in your finished basement.  In Ohio, without a properly installed egress window, you as a homeowner cannot claim the finished square footage in your basement even if there is no bedroom.
When you list your home, the MLS listing will ignore all finished footage in your finished basement possibly causing potential buyers to pass over your listing, not knowing your home meets their square footage requirements.
This being said, installing an egress window and egress window well, yields incomparable returns on your investment.  The square footage of a typical basement has an equal amount of square footage as each floor above.  Imagine what adding a couple of bedrooms, a bathroom, and multiplying the total square feet in your home will do for its value.
In this housing market every seller needs every advantage he or she can get to stand out from the house down the street. Adding an egress window and egress window well in Dayton Ohio will do just that for you.  Ohio Home Doctor can install an egress window while we finish your basement, or in your already finished basement.
Installing egress windows while basement remodeling can maximize the cost effectiveness of both projects.  Cutting the foundation allows us to bring drywall, and other building materials, easily into the basement, an advantage which has obvious benefits if you have ever had to carry anything into yours.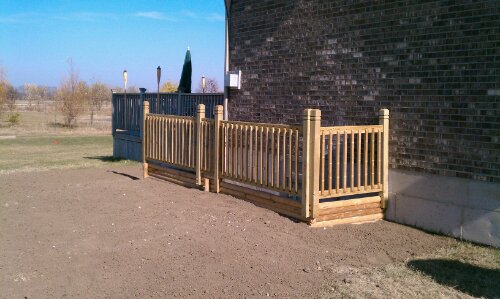 Also doing both projects simultaneously eliminates interior finishing costs.  Egress window installation codes in Dayton Ohio mirror those of national standards.
The window sill may be no more than 44 inches from the finished floor with a minimum net clear opening of 5.7 square feet.  This means when the window is in open position the accessible opening must be equal to or greater than 5.7 square feet.
The best type of window for achieving this requirement and minimizing the penetration through your home's basement foundation walls are casement, or "crank out" windows.
When open, these windows provide nearly 100% of the window's rough opening size as an escape opening.  Code also has requirements for the type of window well and amenities the egress window well you select provides. Call today and we can schedule a time to discuss which options are best for you and your needs.
There is one last misconception I would like to clarify.
I have heard people argue, " The only window I will put in my basement is glass block" because of security concerns.  I am here to tell you, a properly installed egress window can provide even more security than glass block windows.  This is because of the several security covers offered by various manufacturers, and the additional barrier when a potential thief must penetrate two obstacles instead of one.
Ohio Home Doctor also installs full egress walkout doors regardless of your home's dirt grade.  We have several relatively inexpensive options to install a door entering and exiting your basement.  The possibilities this remodeling option will provide for you are endless.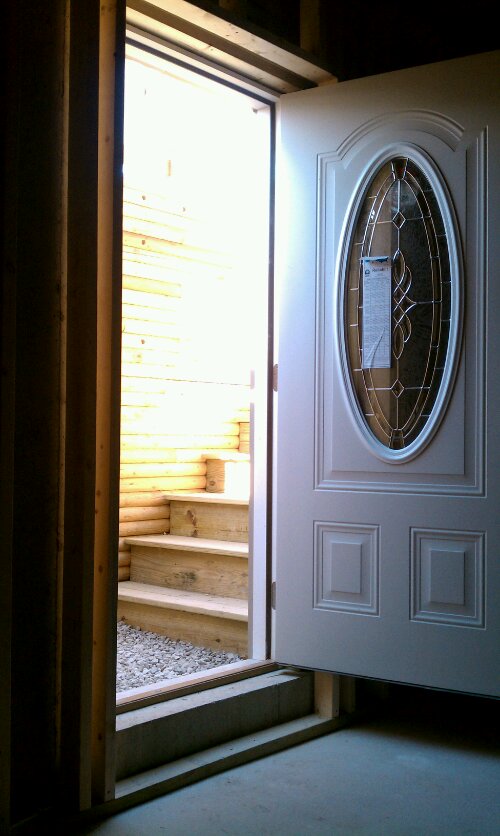 We have installed many types of full egress walk out door and stair systems and have received positive feedback from other industry professionals on our innovative ideas, and cost effective techniques for achieving functional basement doors where people thought they could never exist.
Ohio Home Doctor will be happy to provide you with the egress window installation you deserve.
Let us show you how easy it can be!
Call Ohio Home Doctor today at (937) 605-6882 and schedule a time to discuss the different options we have available and to receive a free estimate that meets your requirements and budget.
While your here, why not take a minute to look at egress window well suppliers and take a look at some of the options there are for you to choose from.
Our preferred model is the WellCraft 2060 which comes in two colors granite grey and sandstone beige. This is a nice unit because it is a one piece pressed poly carbonite well. Many wells are comprised of stacked layers which get caulked togther. The thing about relying on any sealant is that it fails over time at which point dirt and mud is washed into your clean well potentially flooding it and allowing water to infiltrate the window opening. The one piece eliminates this common point of failure.
The ladder is built into the mold and has a clear polycarbonate lid made to fit its unique round design.
This unit exceeds all Ohio codes which include the presence of a ladder, mode of egress, size, clearance from approved window, and presence of a lid to prevent childeren and small animals from falling into the exposed well hole.
Take a look here —>   http://www.WellCraftWells.com
Before you get to far ahead of yourself you must call OUPS the Ohio Utility Protection Service and have them mark the underground utilities to assure no electrical, gas, or communication bundles are in the proposed dig site. If utilities do exist then they either must be moved or the windows location must be changed.
Keep in mind while selecting the location of the proposed installation that stacking it or incorporating the new opening into an existing opening often times saves no money because the concrete has to be cut anyways. Not only do we avoid plunging our wet saws through rebar which usually adorns basement window openings but you also get to take advantage of the additional light and air from the salvaged existing opening.