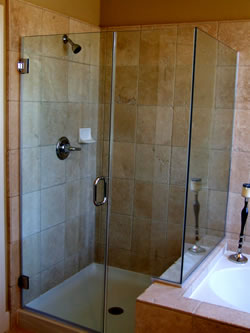 Walk In Shower Design and Construction
What is a "walk in shower"? A walk in shower is one which can be walked into too as opposed to a tub shower combination. Walk in showers are stand alone units and come in many various forms, shapes, sizes, and compositions. Walk in showers are popular in master bathroom where the bathing of children doesn't take place and convenience is the primary focus. Walk in Showers are also popular with well seasoned people since climbing over a tub skirt poses quit the challenge at times.
The benefits of walk in showers vs. conventional tub/shower combinations are;
Low curbs allow for easy access for the elderly and disabled- The elderly commonly need low curbs because they have difficulty lifting their legs and balancing. If this is your situation and know somebody in this situation recommending a walk in shower may be smart.
Walk in showers are nice to look at- Walk in showers allow for beautiful tile work to adorn them. They provide space for storage niches and built in benches as well.
Walk in showers offer features like steam and lighting- Steam showers are not commonly allowed to be installed in tubs because of the possibility of melting. With a shower only this is not a concern. Walk in showers also benefit from options like ThermaSol's lighting and music kits which are made only for showers.
Regardless of what the plans you have for your walk in shower are, let us know and we will be happy to spend time discussing your project with you.