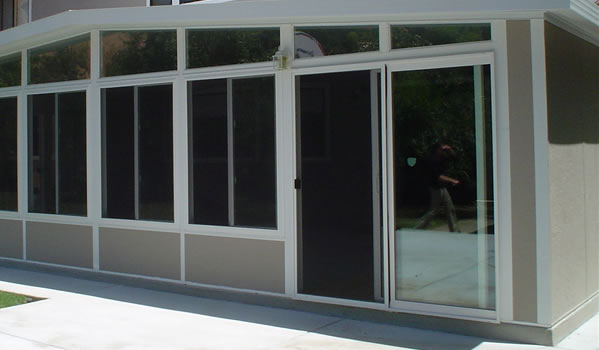 Looking for the best solution to attain the sunroom or screened in patio you have been dreaming about without shelling out the cost of a Lexus?  Some of the national companies providing these high end services provide you with a poorly trained installation crew.  The end result is often something we are hired to fix.
Looking to spend those Spring, Summer, and Fall evenings outside without being eaten alive by mosquitoes? Perhaps even the 4 season room is in your plans; somewhere the family can spend time together reading or enjoying each other's company while still enjoying the bright skies.
Ohio Home Doctor's creative staff of highly trained personnel has been taking Cincinnati area homeowner's sunroom dreams into fruition for a decade now. We have creative solutions to even the most difficult landscape and existing conditions. We are a full service home improvement company not solely a sunrooms builder which gives us the unique ability to access your actual site conditions and make recommendations based on your best case solution not the best way we can strap our product onto your house.
We build wood, aluminum, and vinyl sunrooms. We can also build your sunroom out of the same materials your home is built out of to create a seamless original look verses a glass box off the back look if that is more your style. Whatever you have in mind, we can source the right materials and create the space which is perfect for you and your family.
Contact us today and schedule a time to look at your project and get the balling rolling towards attaining the finished sunroom or screened in patio of your dreams. We look forward to hearing from you!
Why Building Sunrooms With Wood Is Better
The options for what material to use to build your screened porch or sunroom are plentiful. Options range from woods like cedar and redwood, to metals like galvanized steel and aluminum. Each material has their inherent advantages and disadvantages which range from strength to cost. In our opinion since your home is built out of wood framing so should your sunroom as well. Building the structure out of wood opens the options up to many different design features that building with aluminum or galvanized steel just simply can't offer.
For instance, building with wood allows the exterior to be finished to match the existing exterior of your home. If you have brick then we can wrap the outside with brick. Vinyl siding? We can match the siding. This allows for a more consistent look verses attaching a unique material onto your existing structure such as aluminum.
Building with wood is also a stronger option. If aluminum kits were a better option then your home would be built out of them. Wood structures hold up to wind and storm damage far better than the other options. Even if damaged, repairs may be made much simpler than their aluminum counterparts.
Another advantage is the ability to add onto the room or make changes down the road. Maybe in a few years you will want to add a television or additional deck space. Using wood allows for ease of alteration when life dictates your changing needs.
Wood sunrooms offer flexibility in design like no others at a fraction of the cost. These abilities make it the perfect building material to consider for your next sunroom or screened in porch build. Have any questions or comments? We would love to hear from you! Want to get an estimate for the construction of your proposed project? Fill out the form below and we will get a hold of you shortly.
Aluminum Wrapped Porches, Windows, and Doors
Want to add new life to your existing porch or patio? Tired of painting every other year? Want to make your home stand out in the neighborhood even though there is seven of the same house on your street? Have another issue which could be solved by some artfully installed aluminum trim work? We have the answer for you! Our team of skilled aluminum siding installers can wrap your existing structures giving them new life and new beauty.
Aluminum is sold in 2 foot wide rolls. These rolls can be cut to length and then bent in our professional metal break to create profiles and visuals you won't even believe. No other material resists the weather like an electro coated aluminum sheet goods. After being wrapped you structure will remain waterproof and maintenance free for decades to come.
The trim around your windows and doors may also be wrapped to not only add longevity but also drastically increase your curb appeal. Even homes with siding already installed can have new wood trim installed, flashing put up, and aluminum wrapped around to create custom looking case work that will undoubtedly make your home stand out on the block.
Aluminum trim can also be installed in conjunction with replacement windows and doors as a means to increase visual appeal and provides a way better than caulking to create a weatherproof insulated installation. Have another idea how you can put our metal bending skills to work for you? Just let us know. We look forward to hearing from you! Have a question please feel free to ask!