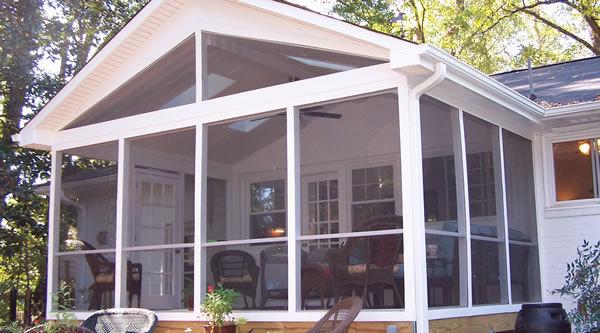 Sunrooms and Patio Design and Construction in Centerville
Tired of watching your neighbors enjoy their sunroom or screened in Patio? Tired of talking about having one built? Just starting your research for a project to be embarked upon in the near future? We can help anyone at any stage of planning to install or build a sunroom or screened in porch in Centerville Ohio.
Ohio Home Doctor custom builds each and every one of their sunrooms. If you are looking for one of those cheap looking plastic green houses stapled to the side of your home, call the national box store company. If you're looking for a 100% custom screened porch or sunroom that will last for a life time and provide both the beauty and longevity your discerning tastes dictate, then you are in the right place.
We custom build our structures in similar methods to the construction of your home. Our goal is always to meet our clients' needs while building spaces we are proud of. One goal we always keep in mind while design the sunrooms we build is how it is going to affect the overall look of your home. Even though they are most of the time built in the back yard, we refuse to build something that looks out of place. Instead we prefer to build rooms which look natural and flow with the overall look of your entire home. This protects your investment by increasing the amount of return on investment you attain through increased home value and equity.
Awkward kit screened rooms do not add much value to a home, and in some cases even detract from a home's value as potential purchasers view them as a liability. Whereas a smartly conceived and constructed porch built by Ohio Home Doctor will pay dividends if resale value is a consideration for your project.
Our rooms boast feature like high ceilings, ceiling fans, screen tight products, full view windows, privacy glass windows, heat, air conditioning, exotic hardwood ceiling and finishes, and much more. If you can dream it, we can build it! If you have seen something online or on television you like, shows us! Chances are good we can source even the most exotic materials and make your dream vision your new reality.