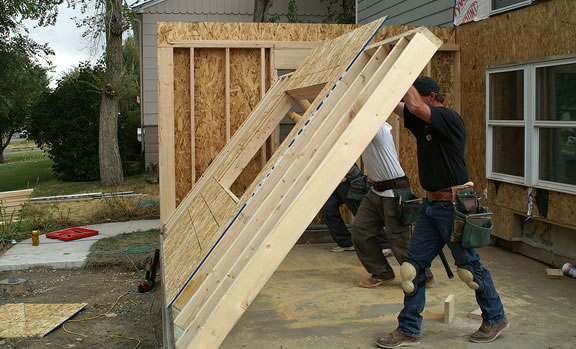 Here are some home room addition tips and ideas that we feel are important.
Design: 
While adding space to your home existing floor plan proper design is imperative.  You do not want you room addition to look as though it was actually an addition but rather an extension to your home that was always there. Likewise the interior design must be carefully thought out to proved you with maximum functionality for minimum square footage.
The Value of adding on vs.buying new: 
Adding the square footage to your home you and your family have been needing can be a cost effective way to accommodate your families needs without purchasing a new home.  Make your home grow with you and increase it's market value at the same time, instead of outgrowing your home and trying to find another one can make good financial sense for your long time financial well being.
Maximizing sq ft to cost value: 
When designing your proposed room addition keep in mind that adding a second story where possible is always a good home remodeling idea.   Adding an additional story will add cost of course but can be much less per square foot since roofing and foundation work have already been considered.  It  can also dramatically increase the square footage, market value and the living areas of your home all at once.
These home room additions tips and ideas should be considered before you begin adding any room addition onto your existing home.
Also check out Room Addition Planning