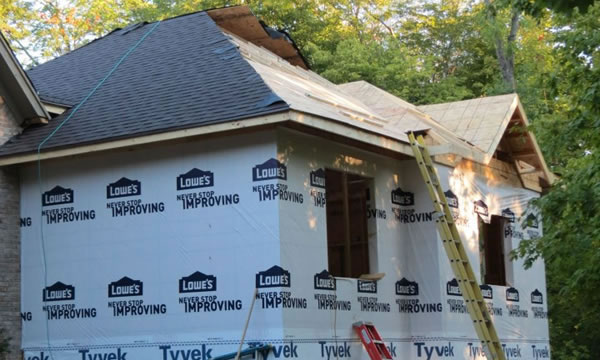 Roofing Company Serving Centerville, Ohio.
Did you just realize, "I need a new roof"? Have you been putting off replacing your roof, praying for a hail storm that apparently isn't going to make it on time? Did you just get pummeled with hail and you are worried that your home may be getting damaged? Are you simply wondering, "How much is my Centerville, Ohio roof going to cost to replace"? You have roofing problems; we have roofing solutions!
From simple repairs that just require a brave sole to scale your steep roof, to complex re-roofs on very steep and dangerous rooflines. Ohio Home Doctor is Centerville's everything roof solution. Our team of specialized roofing technicians loves what they do, and providing you outstanding, quality roofing solutions at affordable rates is what they do.
Far too often we see clients who have roofs which aren't that old but are falling apart due to improper installation. The thing with roofing is that there is much more to it than just nailing shingles down so it doesn't leak. A poorly installed roof may not leak right away, but will have zero chance at all of living to the expiration of its warranty. The other thing is the rate which roofing companies go out of business and re-incorporate under different names. When considering which companies to hire ask yourself; will this company be around in 30 years to replace my next roof? And am I hiring a family owned local company, not a storm chasing out of stator?
Ohio Home Doctor is deeply rooted in the Centerville community and a charter member of Centerville's Keeping Business Local. We aren't trying to get in and out as quickly as possible with as much of your money as possible; however building relationships with our neighbors and clients which will extend far beyond your roof's replacement is our primary goal. We solve problems not just temporarily stop leaks. With factory trained installers on staff we are certified, ready, and able to embark upon whatever it takes to install the perfect roof for your individual situation.
We offer a full line of roofing services in Centerville including Asphalt shingles, Flat rubber roofing, TPO, and modified bitumen roofing. We strive to be your one source for all your residential and commercial roofing needs in and around your home town. Have a special situation? Just let us know about it. Chances are good we have dealt with worse before.
If you have any questions let us know! If you would like to discuss your project fill out the form below or give us a call. We look forward to hearing from you!
Don't Live In Centerville? Check Out Help With My Dayton Roof!