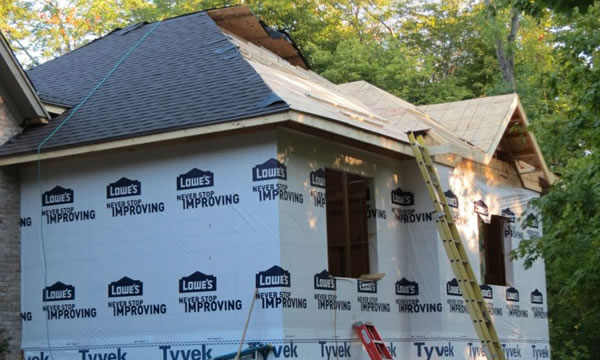 Your roof acts as an umbrella which protects your most valuable asset, your home. Regardless of the age or size of your home the roof shingles act in tandem with each other repelling the rain, snow, and ice away from your home and down your gutters. Every day Mother Nature does its best to reclaim the earth your home is built on and your roof shields your home and family from the best she has to offer. Most homeowners pay very little attention to their roof until it's too late and the necessity for replacement is more than apparent in the form of unplanned for interior waterfalls and mold.
As soon as your roof fails water begins getting into your home causing havoc. The typical roof leaks for years before the damage can be seen from the interior. By the time the leak shows its face the damage is often times done and more than replacement shingles are needed to fix the problem. Don't wait until it's too late before you have your roof inspected and replaced if necessary. Failing to do so can add thousands of additional dollars to the cost of roof replacement; money spent on rotted plywood, rafters, and damaged drywall.
Ohio Home Doctor is proud to employ some of the finest roofing technicians in Cincinnati. We rigorously interview, train, and challenge our guys to keep them up to date and capable of providing you the very best service and quality of installation, every single time.
The science to a properly installed roof goes far beyond just nailing shingles to your roof as fast as possible. We take everything into account when we are designing a roofing system that will exceed your expectations.
Using products like 50 lb felt, ice and water shield, aluminum flashing, and modern ridge vents we are able to exceed manufacturer installation recommendations earning us a reputation of excellence not only among your neighbors but also our fellow roofing contractors in Cincinnati Ohio.
Perhaps the necessity for your roof replacement stems from the recent hail storm. If this is the case we can help! Don't be fooled into hiring the door by door, out of town storm chasers, or even your insurance company's recommended installer.
Most roofing companies recommended by insurance companies get that way by cutting corners and providing the cheapest possible end result ignoring your best interests. Instead hire a local company like Ohio Home Doctor who will be here long after the storm chasers leave town with the fattest possible pockets. Hire a local company with a track record of trust, reliability, and quality. Hire Ohio Home Doctor!
No matter whether you have a simple roof repair, an old or ageing roof, or a roof recently damaged in an Ohio storm; we have solutions which will stand the test of time. We have factory trained, background checked installers who with us will protect your investment and provide you the peace of mind that you made the right decision when selecting your roofing contractor!