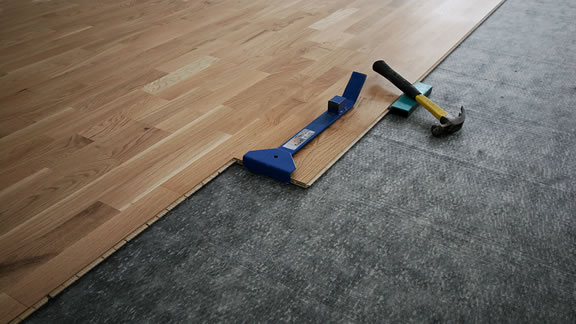 Homeowners, builders, even remodeling do-it-your-selfers are discovering the many benefits of laminate flooring.  Laminate flooring is the revolutionary new floor covering that combines the beauty of wood or more imaginative designs with a durability that sets it apart from all other traditional types of flooring.
Ohio Home Doctor offers the various types of laminate flooring Dayton,Ohio residents and businesses are looking for as well as the best in laminate flooring installation services.  We install laminate flooring brands such as Shaw laminate flooring and Mohawk laminate flooring just to name a couple as well as many more.
Laminated flooring is a manufactured product that simulates the look of hardwood, ceramic tile, natural stone and many other types of flooring.  Laminate flooring comes in dozens of styles and colors.
Laminate is well suited to those shoppers who want the look and feel of real hardwood or stone but without the cost or maintenance that can be associated with natural products.  Laminate floors consist of several layers merged together by a special process that makes the surface extraordinarily durable. They are ideally suited for the wear and tear of day-to-day living: kids, animals, spills, heavy traffic and general hard knocks.
Some of these laminates are 30 times more durable than a kitchen countertop.  Laminate stone and tile patterns will give you the elegant look of tile, but without the concerns of grout cleaning or cracking tile. Something you might want to consider.
And if the "plank" look interests you, there are many laminate hardwood flooring plank designs offered, including rare, exotic wood species.  Laminate floors are also less likely to fade in direct sunlight, unlike aging hardwood floors.
Not only is the floor beautiful and durable, but it is also extremely easy to care for. You never have to wax, sand or refinish laminate flooring.  Laminate flooring is the perfect alternative to real hardwood flooring, laminate floors have been installed in homes for more than 25 years.
Now in the past, laminate floors have been easy to spot, but today's technology allows manufacturers to create realistic visuals and textures for an elegant and quality floor.
And here's something you might find interesting. Laminate floors are never secured directly to the subfloor; instead they are floated over the subfloor.  A polyurethane underlay is laid before the new laminate flooring is installed. This laminate flooring underlayment can offer additional benefits such as reducing noise vibrations, or acting as a moisture barrier.
This allows laminate flooring to be used over a wide variety of subfloors, including wooden subfloors, existing floors and even concrete slabs. This also allows for the laminate floor to contract and expand freely as the environment of the room changes.  Floor laminate can give you years of reliable performance if you follow regular maintenance procedures. Even though they're extremely durable, laminates can be scratched. It's important you protect your flooring from grit, or other sharp objects.
To prevent scuffing, use felt padding, or wide casters under chairs and furniture legs. Be careful when sliding a heavy object across the floor too. Vacuum regularly with a soft brush attachment, but do not wax or polish a laminate floor.
An occasional damp mopping will help too; though always follow the flooring manufacturer's suggested care instructions.  Never attempt to sand or refinish a laminated floor and do not use any steel wools or chemically abrasive cleaners.
For the best in laminate flooring and laminate flooring installation in Dayton Ohio call, Ohio Home Doctor at (937) 605-6882 for your FREE estimate.