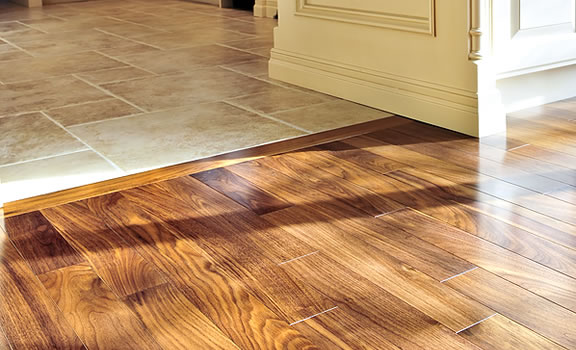 Ohio Home Doctor your hardwood flooring and hardwood flooring installation contractor in the Dayton, Ohio area knows that, for just about every room of you can add warmth, value and beauty to a room, by adding hardwood floors.
For durability or beauty there's really no better choice than wood floors.   Standing the tests of time, hardwood flooring is durable, matains easily, has superior strength as well as beauty plus your they are a home improvement and investment that will truly last for your lifetime.     Today's wood flooring products offer better protection by using environmentally conscious waterborne urethane (no wax) finishes.   These require minimal maintenance and provide superior durability.
There are now many new styles, patterns and varieties of  wood flooring from which to choose  including Oak, Maple, Cherry, Walnut, Beech, Ash, Brazilian Walnut (Ipe), Brazilian Cherry, and Bamboo available to match your individual tastes and needs.
The following are just some of the benefits of choosing hardwood flooring for your home:
Hard Wood Flooring, Very Affordable:
Considered  a lifetime product wood flooring increases in value as your home. It has natural beauty and durability and offers home owners easy maintenance and sustainability. Hard wood floors truly  are a sought after amenity to most home buyers in the market today.
They provide a good investment, are easy to install and come in many environmentally sustainable wood varieties offering all types of budgets with great selections available.
Hardwood Flooring Creates A Healthier Home Environment:
Wood flooring greatly reduces the number of dust, allergens, chemical residues and mold in your house. Hard surface wood floors help to create cleaner indoor air quality by keeping these common household irritants from accumulating like they would on ordinary floor coverings like carpet.   In a recent study done by the EPA,  it found that common garden and home pesticides accumulate on the floors and surfaces of your home.   By having hard surface wood flooring, your home automatically reduces these toxins. It's the best choice for not only the world's environment but the health and environment of your home.
Hardwood Flooring is a Environmentally Sustainable Product:
As we move toward a more earth conscious way of living, wood floors provide an appropriate addition to a more earth friendly home.   Wood flooring comes from a renewable resource in fact, according to the U.S. Forest Service, modern timber harvesting practices replenish twice as much hardwood timber into new growth than is harvested every year.
Hardwood Flooring are Easy For You To Maintain:  
Hardwood flooring requires minimal maintenance, your hard wood floor requires little more than sweeping with a soft bristle broom, a soft floor vacuum and professional wood cleaning polish.
Hardwood Flooring Offers More Selection and Variety:  
Wood Flooring comes in many varieties and colors to fit every home owner's budget and style.
Below you will find helpful information for deciding which type of hardwood flooring would be appropriate for your home environment.
Wood Flooring, Solid Unfinished :
Unfinished wood floors give you an excellent opportunity for complete customization.
You can customize your wood flooring by selecting the species of your wood, the stains and the finish for your floors.
These kind of wood floor are the traditional floors that are the most popular & the type of floor that you may have grown up with.   Above grade installation only. (1st or 2nd levels for  your home) living rooms, bedrooms, foyers, dining rooms, foyers, hallways  and even kitchens can be are excellent choices  for your unfinished flooring.
Solid Flooring Prefinished:   A prefinished wood floor will  not only enhance a room but will provide you a warranty for the finish.  Which could be for as long as 25 years. With a  wide selection of flooring for almost all species of woods.   Above grade applications only. (1st or 2nd levels)  , living rooms, bedrooms, kitchens, dining rooms, foyers and hallways.
It offers you the very clean and contemporary look plus no staining or sanding. . You open the box ,remove it, install it,  your done.
Wood Flooring Engineered:
Engineered wood floors consist of many layers pressed together and  the top wood  layer is your finished floor.  Perfect for areas where a regular wood floor would not be. They come in many different colors, species, and finishes.   Above grade or below grade.  bathrooms,basements,kitchens and utility rooms are great rooms for this kind of floor.
Wood Floors, Floating:
This choice of flooring has the option of being installed just about everywhere.  Made from many layers and fit together with tongue & groove installation. No nails or even glue are needed to attach it to the floor below, that is why they a referred to as floating floors. The weight of the furniture holds it down. Also when walked on, it has a softer feel underfoot.   Above grade or below grade. bathrooms, basements, kitchens and utility rooms are great rooms for these kind of floors.
Antique Wood Floors:  
This kind of wood flooring refers to wood flooring and made from trees grown for centuries that have been  in old factories, old barns that may have been built more than 100 yrs. ago. Usually antique floors are crafted from Chestnut, Cypress, Douglas Fir, Oak, Heart Pine and Butternut trees.
Hardwood flooring will never go out of style, they the preferred choice for the character, warmth, durability and versatility they bring to any style home.   They will also add to the resale value of your home and offer great benefits such as eliminating trapped dust and pollen that many other floors absorb. You can put your own creativity into hardwood by selecting from a wide range of stains.
By adding a rich glow, hardwood floors will compliment any room.   At Ohio Home Doctor we are experts at installing hardwood floors for your home.  We make your hardwood floor installation a stunning transformation for your home or business. Call us today for your free estimate, you'll be glad you did!