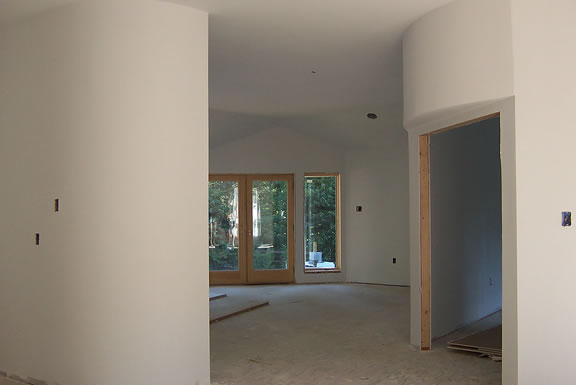 When selecting a drywall contractor in Dayton Ohio several factors must be considered.  Quality, Cleanliness, Speed, and Price are the factors that set Ohio Home Doctor Drywall apart from other drywall contractors. The quality of our drywall work is outstanding. We have the experience and understanding necessary to exceed your high standards.
One faucet of being a residential remodeler is having a talented team of specialists at your disposal. We have several drywall crews and are happy to connect you with the right guy for the job. In many cases thats us. We complete drywall repairs and large 1000 sheet industrial jobs.
Ohio Home Doctor Drywall is a full service drywall contractor.
We offer both residential and commercial drywall services including but not limited too:
New home drywall installation
Drywall hanging
Drywall finishing
Fiberglass faced drywall
All forms of mold resistant drywall work
Dry wall repairs
Drywall construction
Fire rock
Ceiling texture
Custom matched textured ceiling
Popcorn ceiling
Plastering and stucco.
We offer as many services as any other drywall contractor in Dayton Ohio.
The level of finish our company consistently produces make us stand out as a premier drywall contractor in the Dayton Ohio area.
We also install speciality panels such as frp board, vinyl wall coverings, and sound abatement materials such as quite rock and homasote. If sound transmition between rooms is a serious consideration while undergoing a remodeling or building project then we can help design a plan to address these concerns.
We utilize the best quality boards, compounds, fasteners, tapes, and techniques in the business. Our installers are constantly trained by the manufactures in the latest material and trends. Using the right materials and professionally installing each, leaves you with the best finished product available from any other drywall contractor.
Ohio Home Doctor Drywall recognizes the importance of maintaining a clean work environment while working in your home or business. We utilize low dust compounds, exhaust fans, room tenting. vacuum sanding, and total floor coverings.
Most drywall contractors can finish the wall and make board seems invisible. The difference can be seen upon completion, when our professional dry wall installers roll up the covers and take the mess with us. Leaving you with a clean floor and no extensive dusting.
What did your house look like when the last drywall contractor you hired was finished?  You will appreciate our effort.  Ohio Home Doctor Drywall has completed thousands of home remodeling and home improvement jobs. As a result of massive experience, our drywall installers are very efficient, and consequently fast.
We understand that typically drywall is not the most important thing going on in your life. The faster we finish, the faster you can move on as a happy customer, and that's our goal.
Whether it's a small dry wall repair, or 1000+ sheets, we are cheaper.  Contact Us today at (937) 605 – 6882 and see how the best drywall contractor in Dayton Ohio does business.
We finish our walls to a level 4 complete skim coat finish to eliminate flashing in finish coats of paint. It also eliminates minor unseen flaws and produces a very high end polished look. Our perfectionist clients appreciate our efforts.