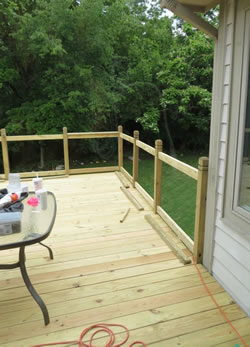 Custom Deck Builder in Centerville, OH
Close your eyes and imagine sitting around on your brand new deck enjoying cold beverages with your family and friends while listening to music, telling stories, reminiscing, and watching the sunset. Now open your eyes and look at your existing deck. If the picture in your head was much nicer than what you're seeing now, it may be time to think about building a new deck. Ohio Home Doctor is Centerville Ohio's premier deck builder and has been making deck dreams a reality for over a decade now. Using our vast knowledge of local codes, the latest in building materials, and new trends in the decking industry we are often times able to surprise our clients in how much deck they can get for their money.
With the improvement in quality of composite decking and the quality of pressure treated lumber constantly increasing we can develop an approach which fits every budget and lifestyle. The options for decking are nearly endless and without the guidance of a seasoned professional it is easy to fall prey to the countless manufacturer marketing plows. Each manufacturer claims to have the greatest and best products while degrading their competitors. Wouldn't it be nice to have a life time of personal experience to guide your decision making process while selecting the perfect deck for you and your family? Well now you do, Ohio Home Doctor can be that trusted advisor working in your corner to protect the investment you are getting ready to make.
We build many different types and styles of decks depending on your budget and design goals. We can build a deck that will be the envy of the neighborhood, or even a simple small secluded space for you to enjoy coffee on alone. Regardless of your goals we can tailor the perfect solution to help you meet them.
The city of Centerville has a unique set a codes and hiring a contractor who is both familiar with them but also registered with the city can save you immeasurable headaches and delays. Let our family show your family how simple and rewarding your next deck building project in Centerville, Ohio can be! We look forward to connecting with you. Call or contact us today by filling out the form below and let's get started together on the road to your new deck!
Wood Deck Builder in Centerville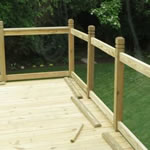 Do you just absolutely love the look of natural wood? Not sold on composite decking? Or just looking to breathe new life into your existing deck? We can help! Our carpenters build fine quality wooden decks. We use everything from pressure treated southern yellow pine to exotic hardwoods like redwood and IPE. Building a quality deck out of wood is a specialized skill. We approach these wooden deck builds as though we are building a huge piece of cabinetry off the back of your home. The amount of craftsmanship that goes into building a wood deck that meets our high standard is astonishing.[symple_divider style="solid" margin_top="20″ margin_bottom="20″]
Centerville Composite Deck Builder
 Are you tired of the constant maintenance of your poorly constructed worn out wooden deck? Does your budget allow for the finer things in life? Have you fell in love with the latest in composite decking from Fiberon? If so, we understand how you feel. The composite decking industry has really gotten their game together as of late. The new products have highly durable sun and weather resistant finishes, and composite compositions which shrink and expand very little. Fiberon decking is our preferred supplier do to the beauty and durability of their latest lines. Personally the IPE and Brownwood colors are my very favorite.
Just let us know the direction you are thinking for your project and we can schedule a time to look at samples and discuss the options you have for your next deck construction project.
We look forward to hearing from you!