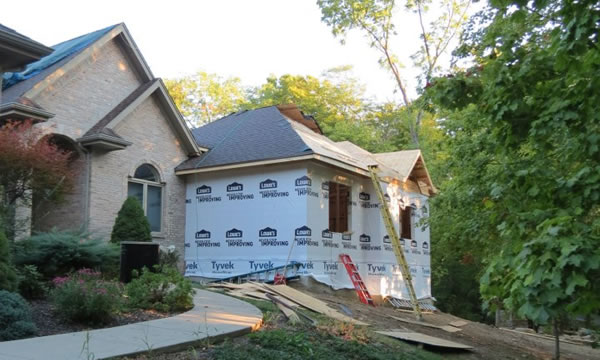 Building an addition to your Cincinnati area home is in many cases the lone solution to your families growing needs. As your family matures, often times your need for space grows as well. Many families enjoy their neighborhood, school system, and proximity to work in their current home more so than all the options for purchasing a new house. If this is also your situation then adding onto your existing home by building a room addition may be the solution you are looking for.
Popular projects include adding on a master bed bath combo, a family room, a garage, or even expanding the kitchen. No matter what the additional needs you have are they can be met with a well designed and properly built room addition from Ohio Home Doctor. The options are truly endless.
Before getting to far into your project it is a good idea to select a contractor. Since every business runs differently their processes will be also be different and thus the best approach to moving forward is to find a contractor/architect team you are comfortable with. We have built additions working in tandem with the clients existing architect, working for designers, doing the design work in house, and utilizing architects on our preferred vendor list. Regardless of your circumstance we have a process to make building the home addition of your dreams a seamless and enjoyable event.
While planning your project always keep in mind that the first goal is function, and the second goal is to build a structure which doesn't look like an addition but rather a natural extension to your existing home. Matching the current look of your home is essential to the success of a project. We have all driven by a home with a poorly conceived addition and scratched our heads. We don't want to make your home a head scratcher. Deploying a team of specialists we are able to match almost every material and design to create something special.
It helps to have your contractor involved throughout the entire planning process. Using our experience we are able to provide real time costing while evaluating possible designs and additions. Just like ordering at your favorite restraint while hungry it is very easy to dream up something bigger than your budget can swallow putting you in a situation of disappointment and paying design fees for a structure which has no possibility of being brought to fruition.
Building an addition to your home is an involved project; in fact adding onto a home is much more complicated than building an entirely new home as far as required carpentry skills. Building onto a structure means that one must master both the art of building but also have a firm grasp on the remodeling trade. Possessing this ability allows us to professionally assess your home's current conditions and mend the two structures in a professional and lasting way.
Call Ohio Home Doctor today to find out what our family can do for your family! We look forward to hearing from you!