Building high quality tile and stone showers in Cincinnati is a primary focus for Ohio Home Doctor. A fresh new shower can improve the quality of your day and improve your overall mood in general. The explosive burst of energy that emanates from a great morning shower is like none other than coffee.
Hiring Ohio Home Doctor to build your custom tile shower ensures that you will be getting the very best in quality of installation and knowledgeable installers. Our talented staff of well-informed technicians are factory trained every year to stay up-to-date in both the latest materials but also the most current design trends.
Tile showers can have either a tile floor or a pre-fabricated base and tile walls. Both are very nice options but there are some obvious advantages and disadvantages depending on your budget, allowable space and other factors related to your bathroom.   The following outlines some features of both a tile floor base and a pre-fabricated shower base.
Shower Bases For Your Tile Shower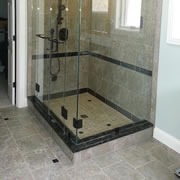 Tile Bases:  A all tile shower base must be built from the sub floor up. There are numerous ways to do this and tons of opinions on the matter. We use the Kerdi or Wedi systems when the shape of the proposed shower facilitates doing so. These systems are similar in that they provide some type of pre-sloped based which is covered with a waterproof membrane of one type or the other. Tile shower bases are visually pleasing and boast a very high end look.[symple_divider style="solid" margin_top="20″ margin_bottom="20″]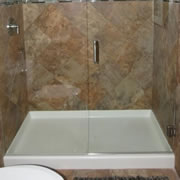 Pre-fabricated Acrylic Bases: These got a bad name in the 90's because of cheap plastics which faded and cracked in no time. The modern units are far superior to their predecessors. We use a brand called FloorStone or Swantstone. Both are very nice and have brilliant white and colored finishes. There are some advantages to pre-fabricated bases over going with a tile base.  One is the cost, you can expect to save over $1000 when compared to the tile counterpart. Another advantage is the comfort level.  Many of our clients prefer to stand on a smooth monolithic surface as opposed to a tile floor with many grout joints. The pre-fab bases also tend to be warmer than the tile which seems to cool past room temperature.
Shower wall waterproofing can be approached a few ways. Based on the specifications of your distinctive project we formulate a plan of attack which best meets your needs. Whether we are using cement board coated in Aqua-Defense or Kerdi board, rest assured that you project is in good hands if you allow our teams of professionals tackle your next tile shower installation in Cincinnati Ohio.
Contact us today and find out for yourself what so many of your neighbors already know; the OHD difference.