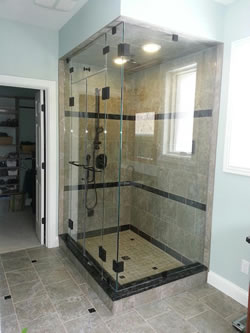 We specialize in remodeling broken down ugly Cincinnati bathrooms, transforming them into personal spa like oases. Whether you project is spawned out of necessity due to mold or just a facelift to improve the quality of your life, we can help.
Ohio Home Doctor has been renovating bathrooms on life support for nearly a decade. In that time we have become students of the trade mastering the latest in both aesthetic trends but also mold resistant technology.
Until recently the life span of a bathroom was a mere 10 years or so. Improvements in material composition and improved water management techniques have extended this into modern bathrooms which will undoubtedly last a lifetime. Replace your next bathroom because of desire not necessity. Contact Ohio Home Doctor Today!
Bathrooms are typically the first room in a house which will need attention. This is because of the constant exposure to moisture and water. In the past home builders tiles directly over drywall and other improper substrates essentially creating large culture dishes in your showers. The idea was that the tile and grout would waterproof the shower. Well now we know better. Tile isn't waterproof! Anyone who has ever seen an improperly built shower demolished can testify to this.
The modern idea is to create a waterproof membrane behind the tile which prohibits the growth of mold. Like this we are able to keep all the moisture contained and managed within the shower creating a system which will improve the air quality in your home and substantially decrease maintenance costs associated with your newly renovated bathroom. Using these modern membranes we are able to create sleek gorgeous bathrooms and facilitate almost any design specification.
Bathroom Remodeling Services in Cincinnati
New Bathroom Vanities
Bathroom Tile Flooring
Tub-To-Shower Conversions
Jacuzzi Tub Installations
The bathrooms we are installing boast everything from televisions concealed behind mirrors to spa like steam showers with iPod coordinated lighting. We build the bathroom of your dreams. Have a crazy idea or want imitate something you have seen at a friend's house or on TV? Just ask, you can dream it, we can build it!
Perhaps your proposed project is less involved than a fancy complete bathroom makeover. Maybe a simple tub to shower conversion is in order, or you are simply looking to replace that moldy tub to improve the quality of your kid's health. We can help there.
The average simple bathroom makeover can be completed in as little as 5 days from start to finish. Curious, How much will my bathroom remodel cost? A simple remodel including replacing a shower/tub surround, new vanity, new flooring, and new toilet can in many cases be done for under $5,000. Of course every project is unique so just let us know about your project and we will let you know what we can do.
Ohio Home Doctor can help you design that the bathroom you always wanted. You know that feeling when you're on vacation and you hop out of the beautiful European style shower feeling refreshed and invigorated? Experience that feeling every morning! Using a blend of custom lighting options, and wisely selected tile patterns we can facilitate you re-living that feeling time and time again.
Contact us Today, and let us know about your plans! We love hearing from people. Talking bathrooms is our passion; we can't wait to see what you have in mind!