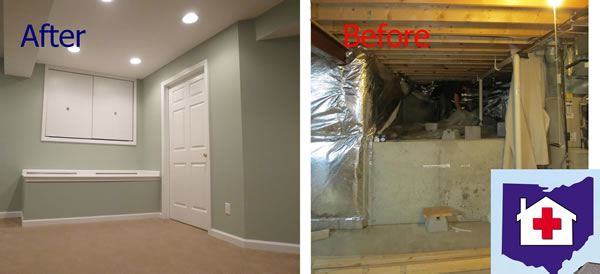 Basement Finishing Contractor Serving Centerville
Have you been planning to finish your basement for a long time? Are you finally at the point where it just can't wait any longer? Are you just curious how much it is going to cost to finish your Centerville, Ohio basement? Did you just build your new home and need to get the basement finished as quickly as possible?
We have solutions for ALL of these situations! Ohio Home Doctor is Centerville Ohio's premier basement finishing company. We have finished more basements in Centerville than any other company. How do we know this? We have checked. How have we been able to do so; by offering outstanding quality, timely completions, and unbelievably low rates to you and your neighbors for the last decade. We finish basements for $24 per square foot. For more information on this check out the basement finishing package link at the top left of this page.
We have every option imaginable for our clients. Everything from exquisite wet bars and full kitchens, to in home theaters and home gyms. Whatever your home is lacking right now and be built in your basement. Even if you are lacking needed bedrooms because of the addition of another child or from having an in-law move in with you. We are one of the few local companies who also install legal egress windows in Centerville Ohio.
Even if you have the builder special basement with the furnace in the middle of the room and pipes diving into the window wells we have dealt with the worst they can throw at us and come up with creative designs to maximize the allotted spaces while providing the function our clients have wanted. There is no substitute for experience and nobody has more than your Ohio Home Doctor!
Call Matt today and schedule a time to look at your proposed project. Remember we offer zero pressure free estimates to all residents of Centerville! We look forward to hearing from you!