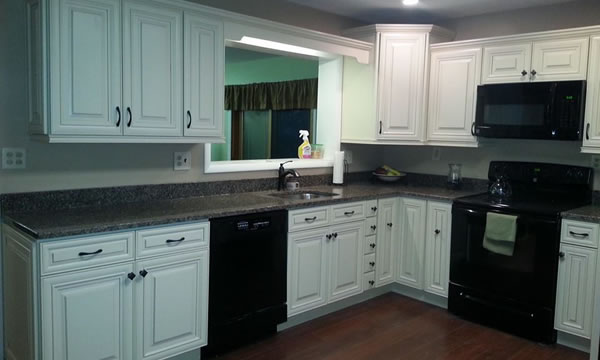 Centerville Kitchen Remodeling Contractor
Has your Centerville kitchen outlived its days of usefulness? Is it just plain ugly? Are you tired of using duct tape to hold the whole thing together? Perhaps you are just looking to improve your homes central hub; the kitchen? Regardless of why you are planning to update your kitchen Ohio Home Doctor should be your first call!
We have been helping Centerville homeowners acquire the kitchen of their dreams for over a decade now. We are deeply rooted in your community and have likely worked for someone in your neighborhood, maybe even someone you know. Why have so many of your neighbors selected us for their kitchen makeovers? That is simple; they appreciate our honest, simple, knowledgeable approach.
Whether you are looking just to spruce things up with new appliances, countertops, and a new tile backsplash, or you are looking forward to getting a completely new bigger kitchen through talking walls down and redoing the entire floor plan, we can help. Our craftsmen are top notch carpenters and work very hard to refine every detail down to the placement of your hardware while working towards utter perfection.
We are very detail oriented and can skillfully take even the simplest kitchen floor plan and create a functional masterpiece which will improve both the quality of your life but also the value of your home.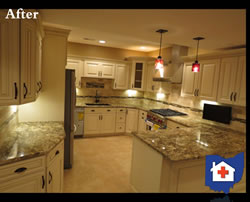 Ohio Home Doctor has completed kitchen remodels with budgets ranging from $500- $120,000. We approach each and every project uniquely and tailor a set of services with you and your best interests in mind. No matter whether you live in historic downtown or on a Nutt road manner the kitchen is where you likely spend most of your time at home. It is the first place guests end up, it is where your family gathers during the holiday to enjoy your favorite meals. Your home's kitchen set the tone for the rest of your home's décor and should be treated as such.
We invite you to contact us even if just to talk about a project you are planning down the road. We have commercial accounts at some of the best retailers around and are always happy to pass on our contractor discounts to you our cherished clients. The local builders have long enjoyed being able to purchase custom cabinetry far below the cost of what you the average consumer could attain them for. No longer is this the case as we have opened that door for you.
We offer many options for kitchen cabinetry to our Centerville Ohio clients including stock options all the way to custom built Amish cabinetry. We have solutions for every budget and taste. It's possible you have seen something on television that you liked and have no clue where to start to find it. Look no farther. If you have seen it or dreamt about it, chances are good that we can make it your new reality.
Contact us today and let's schedule a time to discuss the possibilities for your proposed new dream kitchen! We take pleasure in the opportunity to speak with you!