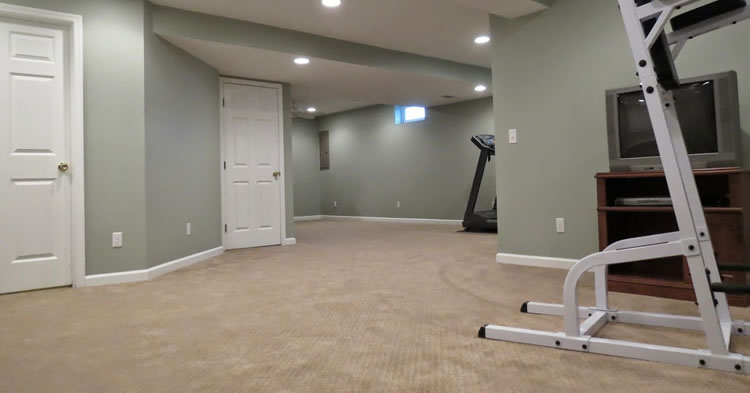 Are you ready to finally finish off that basement?  Maybe you'd just like to transform it into a more usable and modern space for your growing family?  What about turning it into a basement suite to earn a little rental income?  With basements remodeling projects the possibilities are endless and only really limited by building codes and budgets!
Ohio Home Doctor Remodeling is a full service home remodeling contractor based out of Dayton, Ohio.  We specialize in basement finishing and remodeling projects.  Many of our customers who want to remodel their basement don't really know exactly what they want yet, and they often ask us for ideas.
Here are 7 of the most popular basement remodeling and finishing ideas for Dayton, Ohio homeowners.
 #1.  Walkout Basements Are Great For Sloping Lots
Homeowners with a sloped lot, should always consider the advantages of a walkout basement.  Walkout basements allow easy entry/exit from the basement and they allow more natural light in as well because the foundation (usually your basements outer walls) are not completely submerged underground.  If your home is on a slope, then a walkout basement is a very good choice.
Transforming your basement into a walkout basement takes a bit of engineering, and requires some careful planning on the part of your contractor as you'll literally be opening up the foundation of the home to install an entry way and windows.  This often requires the use of a mini-excavator, or in  some cases even larger machines.
The results of a walkout basement project is more accessibility to your basement, more natural light, and in the case of a basement suite, it offers a separate and private entry for a tennant or family member.
#2. Open Concept Basements Are Still Popular
Large open spaces have always been popular with basement design and remodeling projects and 2017 is no different.  Instead of having rooms closed off from one another, the basement is just one large, open space.  Your basement can still be designed to be multi-purpose, you just won't have walls as dividers.  Maybe you'd like to freely walk from your entertainment area to the bar/kitchen area or maybe it's a workout space or a games room for the kids.
Open concept basement design is an excellent choice for those homeowners who have a smaller basement as well.  Removing walls and other barriers from the basement will give you more functional room and open up a whole new world of possibilities for your new space.
For small basements, the open concept design maximizes the limited real estate–creating the perception of light and space. With this design, you have more freedom to mix and match styles to create your preferred overall taste.
3. Open Spaces or Closed Rooms For Entertainment and Media?
Having a dedicated room for media/audio/video is usually something that is reserved for the most hardcore enthusiasts, who want that true "theater" experience in their basement.  But now, thanks to consumer demand and modern technology, dedicated theatre rooms are becoming more and more popular.  Plush movie theater style seating, large projection screens and surround sound systems are all popular requests from our customers.
The alternative is the open-style entertainment room, which makes for a much larger space, which in-turn can reduce the effectiveness of surround sound systems, which for some audiophiles is a no-go.  If budget is a concern, then an open-style entertainment area for the basement is the way to go.
4. In-Law or Basement Rental Suite Construction
The construction of live-in basement suites and in-law suites isn't new.  It's been a construction trend for several years as our population continues to grow and suitable housing is always in demand, which makes having a rental suite in the basement a good financial decision for many homeowners.  It's the only basement remodel that can actually pay for itself many times over!
For other homeowners the construction of a basement suite is an effort to keep family closer together.
Because in-law suites/rental suites are designed to be separate living spaces this usually means extensive construction.  You'll need a kitchen area, a separate bathroom with bath and/or shower and even a laundry room.  In order to classify a basement suite as living space building code requires egress windows in every room considered a "bedroom".  This can raise the cost of a basement suite conversion quite considerably but remember, it's the only basement remodel that can actually pay for itself (if you're renting it out).
5. Home Gyms and Workout Areas For Your Basement
Are you a fitness freak?  Do you have a few members of your family who are really serious about sports?  If training in the convenience of your own home is important to you then transforming a section of the basement into a home gym is a growing trend you should consider taking advantage of.
By turning your basement or a section of your basement into a home gym you can have all the comforts of a regular gym but in the privacy of your own home.  There are many different types of flooring choices suitable for home gyms depending on your comfort choice, wood, cork, rubber tile or even bare concrete.  Mirrors and proper lighting can be installed, custom weight racks, equipment, a water fountain, and more.
6. Create A Lounge Space For The Family
Is the upstairs getting a little cramped?  Want a larger space for the whole family to enjoy?  Look no further than your basement, where you can literally double the square footage of "usable" space within your home.  Basements are excellent areas for creating those lazy lounging spaces.  With a little kitchenette in one corner, maybe a bar, an entertainment area, and if there is enough space left over, maybe a bedroom or two.
With a little thought and planning you can transform your basement into the room nobody will ever want to leave.  In the case of walkout basements with lots of natural light and all the amenities of the normal upper floor of a home, many of these basements are becoming the central hub of the home.
7.  Basement Offices For Home Based Businesses or Telecommuters
With the amount of people working from home, either running their own business or telecommuting for another the demand for their own private workspaces within homes is increasing.  Cabling for phone and Internet can be easily wired in (in most basements) and all the amenities of a modern office can be installed.  Custom shelving and organization solutions are always popular requests as are windows to allow in more natural light.
Basement Design Services – Hire a Designer Or Not?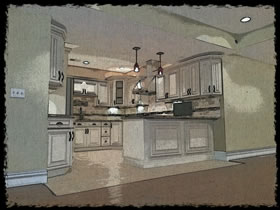 We can tell you from experience that with any large scale home remodeling project working with a designer is generally a good idea.  The modern design process is much more than just pencil lines on paper as we can now provide complete 3D renderings of your potential space.  This allows us to change materials and layouts digitally, showing you what different layouts could look like, what different materials could look like and in general giving you a better of visual of the project.  This can shorten the design process and take the mystery out of the equation for your chosen builder.
Some More Basement Finishing Ideas
(these are completed Ohio Home Doctor projects)

Why Choose Ohio Home Doctor For Your Basement Finishing Project?
When you choose to work with the Ohio Home Doctor for your basement finishing project you are partnering with a contractor with over 18 years of experience in the basement remodeling industry.  You can count on our team to listen to your needs, answer all of your questions, and offer helpful advice to help guide your project along to the finished masterpiece we know you're after.
We offer fixed-pricing on our estimates, we stick to rigid timelines and we can come up with basement finishing solutions for almost any budget.
Whether you'd like to transform your basement into a totally "liveable" space or transform it into a man-cave, theater or an office the team at Ohio Home Doctor will be able to bring your basement vision into reality!
If you'd like an estimate for your basement finishing project in the Dayton, Springboro or Cincinnati area please give us a call (937) 605-6882 or fill out our contact form and someone will be getting right back to you shortly.