Ohio Home Doctor Remodeling Portfolio
Please take a look through our photo gallery and get a feel for the type of work we do.
Our Interior Home Remodeling Services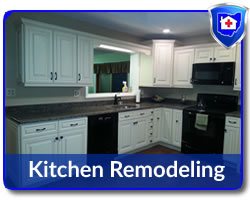 The Ohio Home Doctor transforms dull, boring and drab kitchens into beautiful new spaces. From replacing your kitchen flooring, to installing new cabinetry to completely making over your entire kitchen from top to bottom.
There are an overwhelming amount of choices for you to make when Kitchen remodeling in Dayton Ohio.
Let Ohio Home Doctor add ease to the process by providing you with a free in home kitchen consultation, design assistance (kitchen designer), low budget high impact packages, and high end packages with straight from the manufacturer pricing.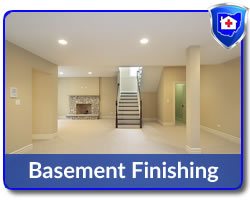 We specialize in remodeling Dayton, Ohio basements! Since you are on our website, chances are good you have been thinking about finishing your basement recently? Well you are in the right place because Ohio Home Doctor finishes and remodels basements for Ohio residents.
Through excellent workmanship and heroic customer service Ohio Home Doctor has become one of the premier home remodeling companies in our service area.
Finishing your basement might be the answer you are searching for while your family grows. An addition to your home provides the additional square footage and ammenties you desire, while maintaining your kid's school district, and avoiding an exhaustingly costly move. If getting started seems daunting, check out this article of helpful background information.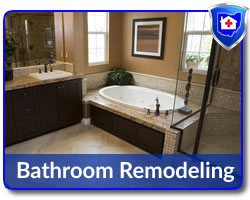 Bathroom Remodeling can be fun and EXCITING! A home's bathroom gets used as much as any other space in a home. It functions as a hub of activity in the morning, and can provide that oasis spa retreat within the boundaries of your own home in the evening.
A modern and amenity stuffed bathroom can sooth the pains of a busy day away using steam, light, water, and scented oil therapies.
Bathrooms can boast makeup stations, walk in closets, large barrier free showers, and luxurious soaking tubs adorned with custom European style tile work with solid furniture type vanities. Ohio Home Doctor can assist you in designing that spa like experience you have wanted for so long.
Exterior Remodeling Services We Offer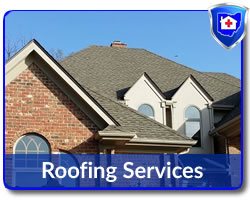 Ohio Home Doctor provides high quality roofing services to the greater Dayton region of Ohio. Our talented specialists are factory trained to protect your investment. Your roof protects your home; hiring a certified contractor like Ohio Home Doctor ensures the new roof you purchase does just that.
Our low overhead way of doing business allows us to provide you top quality craftsmanship, and large company like customer service, at the absolute lowest price of any other reputable roofing contractor.
Keep in mind while comparing estimates that it is a popular tactic in the local roofing industry to hit the clients with surprise extra charges after signing a contract. We work hard to inspect your roof prior to formulating its cost which almost eliminates surprise charges for items such as new sheathing or step flashing.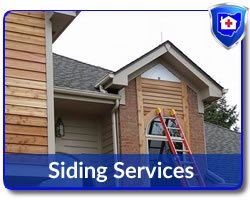 The Ohio Home Doctor specializes in siding replacement and repair for all types of siding including Aluminum, Hardie Plank, Vinyl and even Cedar or other exotic wood siding.  Our siding experts can help you choose the perfect siding for your home and then we'll remove the old siding and install the new siding in it's place.
When you choose The Ohio Home Doctor to side your home or building you're partnering with a professional team of expert craftsman who will take the time to make sure your siding is installed correctly and within all manufacturers specifications so you have a warranty too.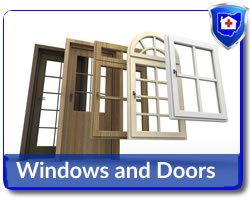 Are the windows in your home more than 20 years old, or perhaps maybe poorly installed by a previous contractor or DIY project?
If you feel drafts from the outer edges of your windows or see gaps around them then it's probably a good indication that you would benefit from replacing them with a good quality window and the best quality installation.
Ohio Home Doctor specializes in complete window replacements from a single window in your home to replacing every window in your home with energy efficient and even custom sized windows when required.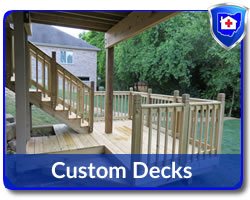 Enjoy the hot and sunny summer months on a freshly built deck from the team at Ohio Home Doctor.
Taking your property and lot size into consideration, any potential views, sun exposure and specific design requests we can help you formulate a beautiful design for your new deck.
Once we've finalized a design for your approval then our carpentry experts at Ohio Home Doctor can proceed to build your deck. Choose from decking materials such as pressure treated lumber or even exotic woods like Western Red Cedar or Ipe. Both of which resists the elements wonderfully and are well suited for decking materials.
We also specialize in building decks out of the newest composite decking materials as well such as Trex, Timbertech, Fiberon and more.